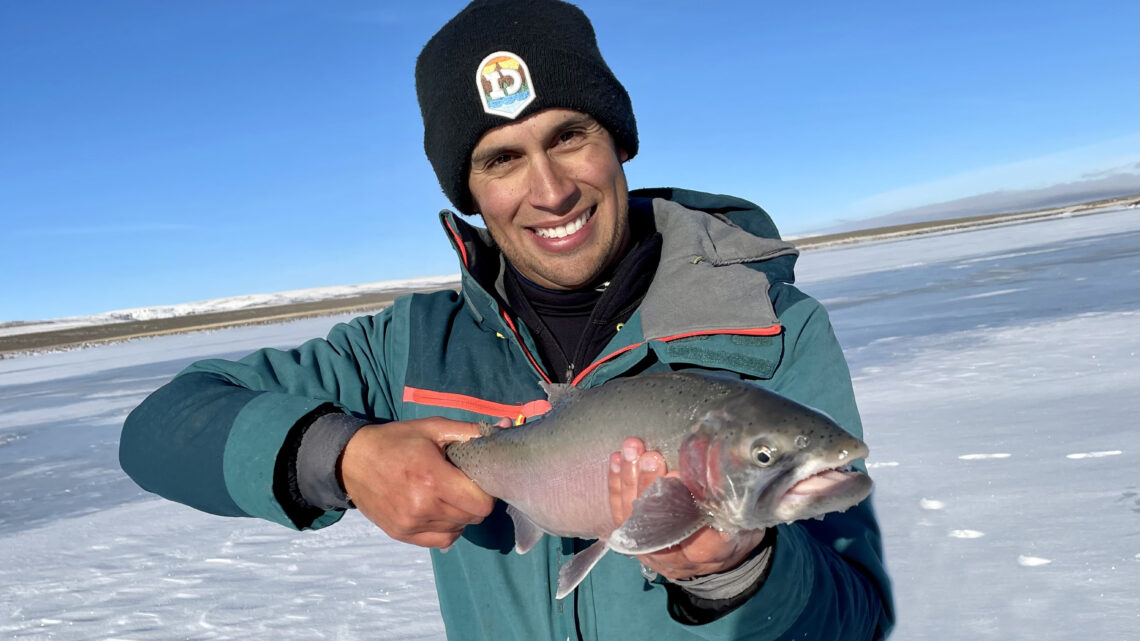 It's officially ice fishing season! Cold temperatures have brought ideal conditions to several popular fisheries, and others will be fishable before long. I love ice fishing, so my next couple monthly reports will be dedicated mostly to hardwater options (I will occasionally throw in an open water option or two). Conditions listed below are as of this writing (December 19). As always with early-season ice fishing, drill test holes as you go and stay safe out there!
Lake Cascade (Perch, Trout)
Cascade froze early this year, and the entire lake is fishable. Poison Creek, Boulder Creek and Blue Heron are the most popular winter access points, and Idaho Fish and Game added a new parking area off Stonebreaker Lane near Sugarloaf Island this year. Anglers have been catching nice trout, and perch fishing has been fair (it usually picks up as the season moves along). Perch pattern lures tipped with red worm, waxworms or cut bait are always a good place to start at Cascade. It's been mostly foot traffic so far, but I imagine snow machines will be good to go by New Year's.
Horsethief Reservoir (Trout)
While Cascade offers trophy opportunities, nearby Horsethief provides easy access and steady catch rates for pan-sized trout. It's the perfect place for families, beginners and kids! Small, brightly-colored jigs and spoons tipped with a mealworm, waxworm, Power Bait or nightcrawlers are the ticket. The whole lake is safe for foot traffic.
Riddle Lakes (Trout)
These high desert gems offer sneaky-good winter fishing for Lahontan cutthroat and rainbow trout. I love the quality trout opportunity, but it can be technical fishing. The lakes are crawling with crayfish, so keep your baits off the bottom. Access can also be tricky on bumpy, snow-covered roads. Four-wheel drive and all-terrain tires are a must. Cut bait, shrimp, worms, jigging spoons and Rapalas have been effective options. One word of caution if you fish Grasmere, which is the most accessible lake—there is some runoff/melt causing unsafe ice conditions around most of the shoreline. You can see the clear area extending about 10 yards from shore. Stay off of it! There are a few areas where you can get out to the white, thicker ice and fish safely (it's 5-7 inches thick, whereas the clear, thin stuff is only 1-2). Stay safe!
Salmon Falls Creek Reservoir (Walleye, Perch, Trout)
I've never ice fished Salmon Falls, but boy, there are some nice early-season reports this year! Anglers have been catching all three species—walleye, perch and trout—in good numbers. The trout are really nice, and the perch are certified jumbos. The walleye are on the small side, but still great eaters. Jigging Rapalas and spoons tipped with worms or cut bait are what I would start with. Drill test holes if you go, as the ice thickness varies depending on your location.
Henrys Lake (Trout)
Henrys is the best trophy trout lake in Idaho, and one of the best in the Northwest. I recently caught a once-in-a-lifetime fish there, a 30-inch cutbow my friends and I nicknamed Walter. Having said that, the prime window for ice fishing is behind us, and heavy snow makes access trickier as the season goes along. A monster can hit anytime, but anglers will likely have to work hard for their bites going forward.
Warm Lake (No ice!)
Warm Lake takes a little longer to freeze because of its depth and heavy snowfall. I expect it will be fishable next month.
Dog Creek Reservoir (No ice!)
It sounds like there is a skim across most of the lake, but it's not fishable yet. Give it a few more weeks.
Payette Lake (No ice!)
Payette is almost always the last ice fishery to freeze. It will probably be at least another month.
Stay safe out there, have fun, and tight lines!