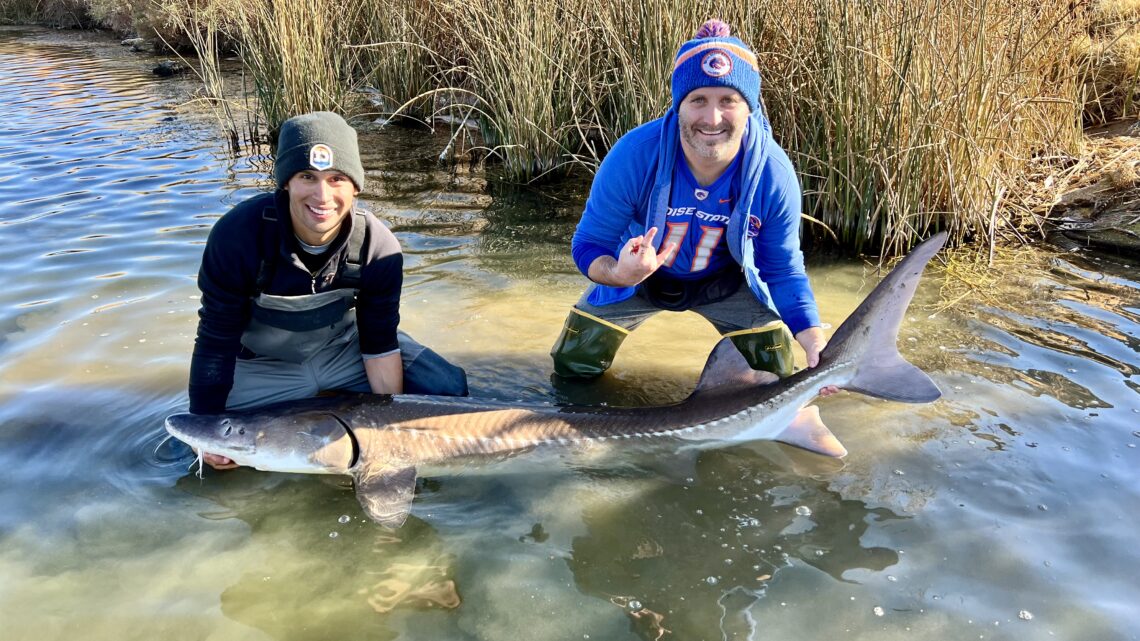 And just like that, it's winter! The cold weather came suddenly and early this year, throwing some of the usual fall fishing patterns out of whack. But the cold snap has also provided unique opportunities across our region. As you plan your upcoming trips, here are some options to keep in mind:
Snake River (Sturgeon)
Fishing for bass and catfish slows down as temperatures drop. Sturgeon, however, enjoy the cool, oxygenated water, and they are more active now than they've been in months. On a recent trip, my group landed four fish in four hours—not bad when you consider it takes 30 minutes or longer to land these prehistoric giants. Our catches were all over seven feet long, and we lost one that was even bigger! Sturgeon can be caught on a variety of natural baits, but a piece of cut fish that matches the local habitat is usually a good bet. Be sure to use heavy tackle and follow the Idaho Fish and Game regulations for sturgeon fishing. All fish must be released, and they cannot be taken out of the water. Sturgeon are common between Twin Falls and Swan Falls. By the way, if you've never been sturgeon fishing and want to learn the ropes, I recommend a trip with Hammett Valley Fishing Adventures.
Boise River (Trout, Steelhead)
November is always a good month for trout fishing on the Boise River, and the cold weather hasn't done anything to slow that down. Rainbows and browns can be caught in deep holes and channels all along the river using spinners, spoons, Rapalas, flies or bait. Falling leaves can be a nuisance at times, but those should be thinning out soon. In addition to trout, the Boise River is now home to steelhead, courtesy of IDFG's annual in-town stocking event on November 18. A permit is required to target and harvest steelhead out of the Boise (and other rivers). Check out my recent post for more info on how to catch some Boise River steel!
Ice Fishing (Trout, Perch)
It's not often we're talking ice fishing in November, but the winter blast has brought an early start to the hardwater season. Here's a rundown on fishable ice:
Henrys Lake: This eastern Idaho trophy trout lake is always an early freezer. It has 6-plus inches of ice already, and anglers are catching some big cutthroat and brook trout. There's a lot of snow covering the dirt roads that surround the lake, so access is pretty tough. Drive cautiously!
Horsethief Reservoir: Located east of the town of Cascade, this popular fishery has about five inches of ice as of this writing. Horsethief is a fun place to catch pan-sized rainbow trout, along with occasional brown trout and Kokanee salmon.
Lake Cascade: This trophy perch fishery has fishable ice in November, which is very rare. The north end of the lake freezes first, and while we're still several weeks from being able to fish the whole lake, it's crazy to see anglers out fishing for perch in the frozen bays on the Donnelly side.
As always with early-season ice fishing, drill test holes as you go and stay safe out there. Tight lines!