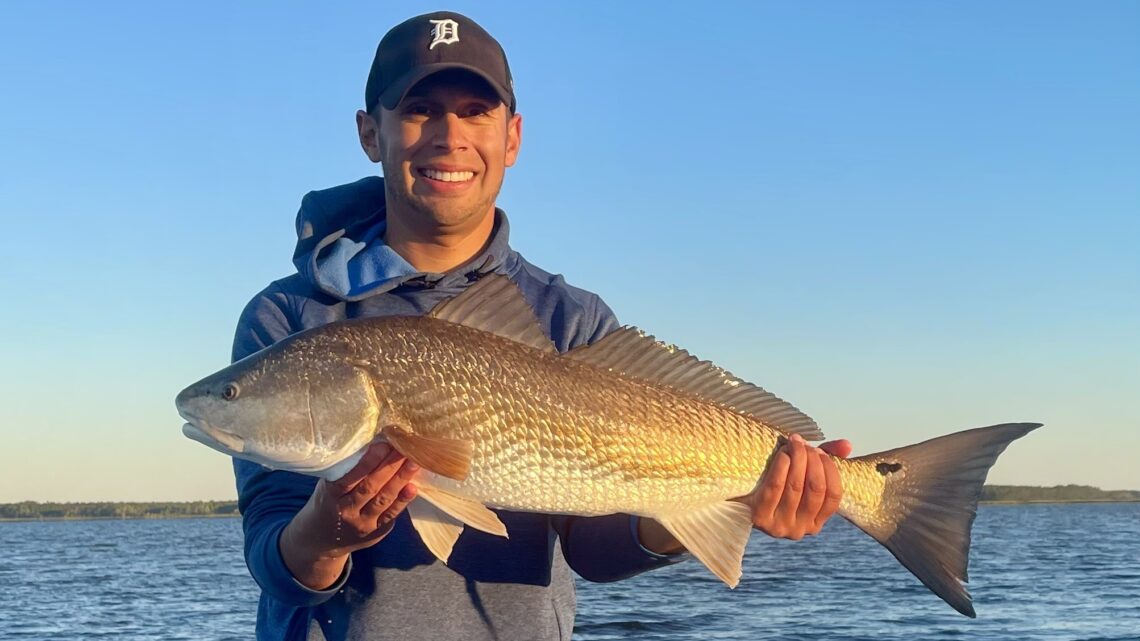 For years, I've been fascinated by the redfish, a saltwater gamefish found along the Atlantic Coast. I tried to fish for reds once in Florida, but a tropical storm foiled my plans. So, on a recent trip to South Carolina, I jumped at the opportunity to track down this bucket-list species.
Based on my research, I likened redfish to an oversized cross between a smallmouth bass and a carp. Like bass, reds are ferocious predators that eagerly gobble crabs, shrimp and baitfish. Like carp, they are built like torpedoes and often "tail" while foraging in shallow water. Their combination of power, size, aggression and unique beauty make them a favorite of anglers across the eastern seaboard.
On a crisp October day, my wife Anna and I met Captain Johnny Mainero in Georgetown, 30 miles south of our lodging in Myrtle Beach. It was dark and brisk when we climbed aboard his skiff, but there was purpose behind our pre-dawn meeting—we wanted to throw topwater plugs at first light (one of my favorite bass fishing strategies back home).
After a chilly run to Winyah Bay, we began probing the grassy salt marsh islands with topwater walking baits. A stiff north wind made for less-than-ideal conditions, but the habitat looked like a perfect place for a topwater blowup. Sure enough, a speckled trout made several attempts at my lure, but missed the hooks. I kept walking my lure along the grass edge and watched it get annihilated by another, much bigger trout. This one stuck, but it immediately bolted into the grass, where the hooks came dislodged.
"Dang!" sighed Johnny. "That was a nice trout, too!"
Undeterred, I flung my lure back into the choppy, coffee-colored shallows. I didn't see or hear the next bite, but I felt the thump of a take and set the hook.
"It got eaten," I alerted Johnny. "I never saw him, but something stealth-slurped it!"
The fish ran to our left, thankfully steering clear of the grass. It felt heavy, but the fish didn't display its full power until I had it within 10 feet of the boat. Then, with a reel-burning zing, the unseen fish peeled off 50 yards of line in a heartbeat. Johnny raised his eyebrows and wondered aloud what we were dealing with. The next time the fish came near the boat, the mystery was revealed—massive, rust-red shoulders broke the surface, followed by a big tail with two telltale black spots.
This was a redfish. A huge one.
The next several minutes were chaotic. The fish went on multiple ferocious runs, straining my light tackle. It tried wrapping my line around anything it could—the trolling motor shaft, the push pole hanging off the side of the skiff, the rear motor transom. Johnny and I danced a Carolina two-step, working in tandem to keep the line free of obstacles and, eventually, lead the massive redfish to the net.
I enjoyed the battle, but I felt both joy and relief when Johnny scooped up our prize. He let out a victory whoop and turned towards me, wide-eyed.
"I'm so charged, bro!" he exclaimed. "This is a topwater fish of a lifetime! Easily the biggest one I've seen this year, and one of the biggest ever on topwater. Unbelievable!!"
After some quick photos, we released the redfish and celebrated again. At 32 inches and an estimated 15 pounds, this fish fit squarely in the "bull red" category usually reserved for giants that spend most of their time further offshore. Catching one that big was unlikely; getting it to eat a topwater plug was remarkable.
At 7:38 a.m., it felt like our morning was made. We enjoyed the rest of our outing—I landed a pesky topwater trout, and we later caught a juvenile bull shark and some hard-charging stingrays. We also saw dolphins, a sea turtle and several leaping Atlantic sturgeon. As always, it was fascinating to explore the great outdoors in a different part of the country. And the charismatic Johnny was a funny and knowledgeable tour guide (if you're ever in the area, look him up at Blackwater Revival).
Fishing was one of several highlights of our maiden voyage to Myrtle Beach. Anna and I also enjoyed good southern food and hospitality, beautiful beaches and some competitive rounds in the mini golf capital of the world (who knew?). We'll be back—even now, when I picture that big redfish, I can close my eyes and hear the famous, soothing James Taylor lyrics: I'm going to Carolina in my mind. Tight lines!