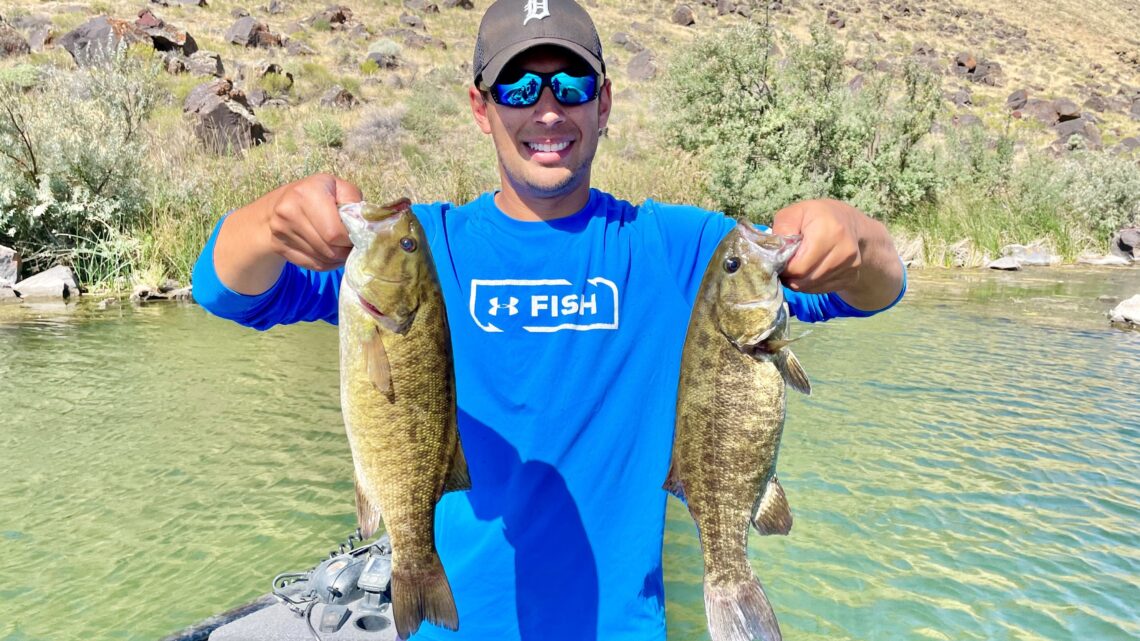 September might be my favorite fishing month in southern Idaho. Just about everything is biting this time of year. River flows are ideal in many trout streams; bass are putting on the feedbag to prep for the winter months ahead; and panfish action usually picks up at places like Lake Cascade and C.J. Strike. As you plan your upcoming trips, here are a few ideas to get you started:
Snake River (Bass)
I LOVE fishing the Snake River in early fall. Weed levels are down, water clarity is good and the smallmouth bass are hungry and mean! On a recent trip, my buddy and I boated 20 bass in a quick morning session, and more than half of them were quality fish over two pounds. That was a particularly good outing for size, but it's not uncommon to catch your biggest bass of the season this time of year. The fish are feeding aggressively on crayfish and minnows—crankbaits, swimbaits, jigs, drop shot rigs and topwater plugs are good options. Get out there!!
Boise River (Trout)
September marks the beginning of prime trout season on the Boise River. With flows receding, the best holes are becoming more accessible and the fish are actively looking for food. Rapalas, spinners, worms, shrimp, nymphs and streamers are good tactics to start with. Keep in mind that the biggest trout in the Boise are capable of eating crayfish, and don't be afraid to think outside the box. These fish see a lot of pressure, so doing something a little different than the rest of the crowd can help swing the odds in your favor. As always, I recommend releasing big, wild rainbows and browns. There are plenty of stocked rainbows if you want to keep some fish for the frying pan.
Big Wood River (Trout)
It's about a two-hour drive from Boise, but I really enjoy fishing the Big Wood River. It is a beautiful place to fish, and catch rates are good for rainbow and brown trout. The Big Wood is very popular with fly anglers—midges, bead-head nymphs, small dry flies, minnow-imitating streamers and hopper patterns will usually get the job done. For the spinning crowd, Rapalas, spinners and bait are effective offerings. Browns, in particular, will hammer a Rapala. There are tons of good spots and plenty of access points between the towns of Hailey and Ketchum. Just keep track of where you are, as IDFG regulations vary depending on where you're fishing.
Henrys Fork Snake River (Trout)
This one's an even further drive, but the Henrys Fork of the Snake River is definitely worth the trip. This river is loaded with rainbow and brown trout as it winds its way through beautiful Island Park, and there are some absolute bruisers in the mix. Tie good knots! A drift boat is the most efficient way to fish the Henrys Fork, allowing you to cover lots of water with fly or spin gear. But you can have success on foot, too—I was in Island Park over Labor Day weekend, and my buddy and I each landed a dozen nice trout during a rainy morning session. Rapalas, spinners, nymphs, streamers, woolly buggers and drift fishing with bait are productive methods to try. The crowds thin out a bit when fall arrives (and it arrives much sooner in eastern Idaho), so now is a great time to make the trip. Tight lines!