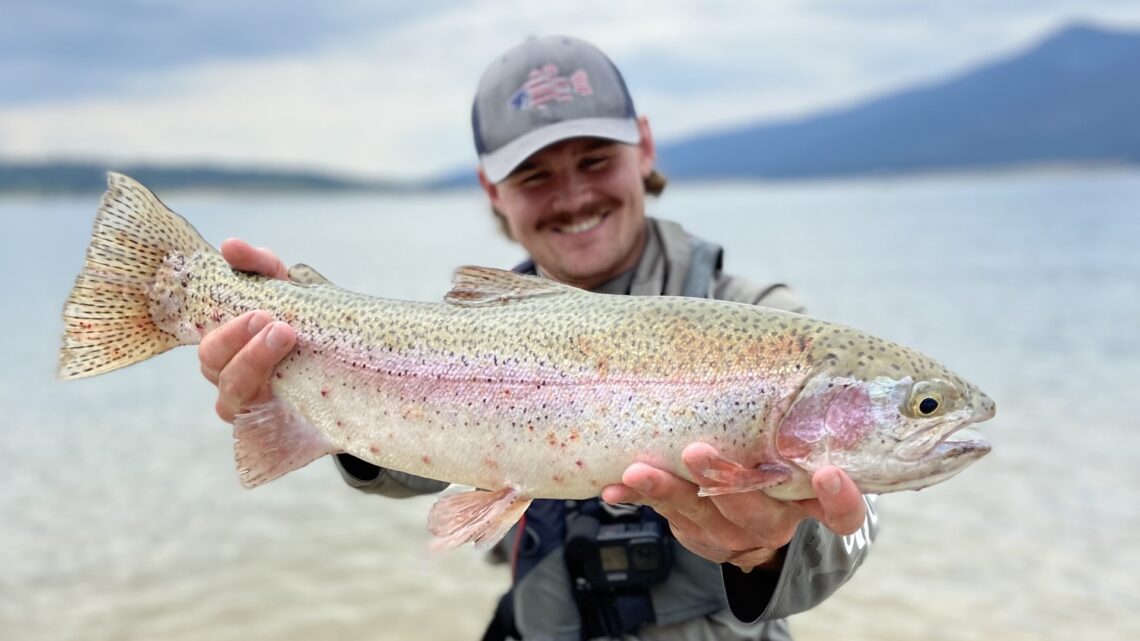 August can be a tricky month for fishing in southwest Idaho. The heat is often intense and weed buildup is a problem in many fisheries. But we are finally seeing more reasonable summer temperatures, most river flows have slowed to ideal levels, and there are plenty of places to beat the summer heat at higher elevations. As you plan your upcoming trips, here are a few ideas to get you started—and to change things up, we will go by species rather than location.
Trout
Trout fishing might be the best overall option across our region. Alpine lakes and creeks are in peak season, high elevation reservoirs like Horsethief and Cascade are producing, and even C.J. Strike is giving up some nice rainbows despite warm water temperatures. Spinners, Rapalas, bait and flies work well from the bank (or a float tube); wedding ring spinners, crawler harnesses, spoons and Rapalas are drawing hits for the trolling crowd. River fishing has also turned on in recent weeks. The Boise River is fishing as well as it has since before the spring runoff hit; brown trout are happily slurping flies on the Owyhee; and the Big Wood River looks as healthy as I've seen it in years thanks to our wet spring. Rapalas, spinners, spoons, streamers, nymph patterns, hoppers and drift fishing with bait are all productive options on trout streams.
Bass
Bass fishing has been very good, with one caveat: weeds! Just about anywhere you fish, be prepared to deal with some vegetation. The Snake River is loaded with floating weeds, but the smallmouth fishing has been very good, otherwise. Weedless swimbaits, plastic crayfish and Ned rig offerings tend to work best; spinnerbaits, crankbaits and topwater plugs will catch fish if you can keep them clean; and some stretches are so weedy that floating a weedless worm is about all you can get away with. C.J. Strike and Brownlee have been fishing well for smallmouth, too, and there are usually areas on the reservoirs where the weeds aren't as heavy. Largemouth fishing has been good in Lake Lowell and Crane Falls. Spinnerbaits and weedless creature baits are a good place to start.
Panfish
Crappie fishing has been fair at C.J. Strike, with anglers catching fish on both trolling and vertical jigging presentations. Catch rates aren't quite as high as they've been the last few years, but the fish are big. Perch and bluegill often mix in with the crappie schools (or hang out right underneath them). The dog days of summer are a slow time for perch fishing at Lake Cascade, but things should pick up as we head into late August. Bluegill and other sunfish can be found in good numbers at many local ponds and smaller reservoirs like Crane Falls and Cove Arm. A micro jig (or fly) is my favorite way to fish for bluegill. A chunk of worm under a bobber usually works, too.
Other Species
Sturgeon fishing has been consistent this summer along the Snake River. If you can dodge the weeds, the fish are usually willing to eat. Catfish action has been good in the Snake and at Brownlee Reservoir. Cut bait, shrimp and Mormon crickets are the most effective baits. Channel cats are most common, but I've been seeing an unusually high number of flatheads, too. If you want to try a fun challenge, find a local pond loaded with big carp (there are many) and try catching one with a dough ball. They are light biters and excellent fighters—it's harder than you'd think, and a fun way to spend an hour or two. Tight lines!