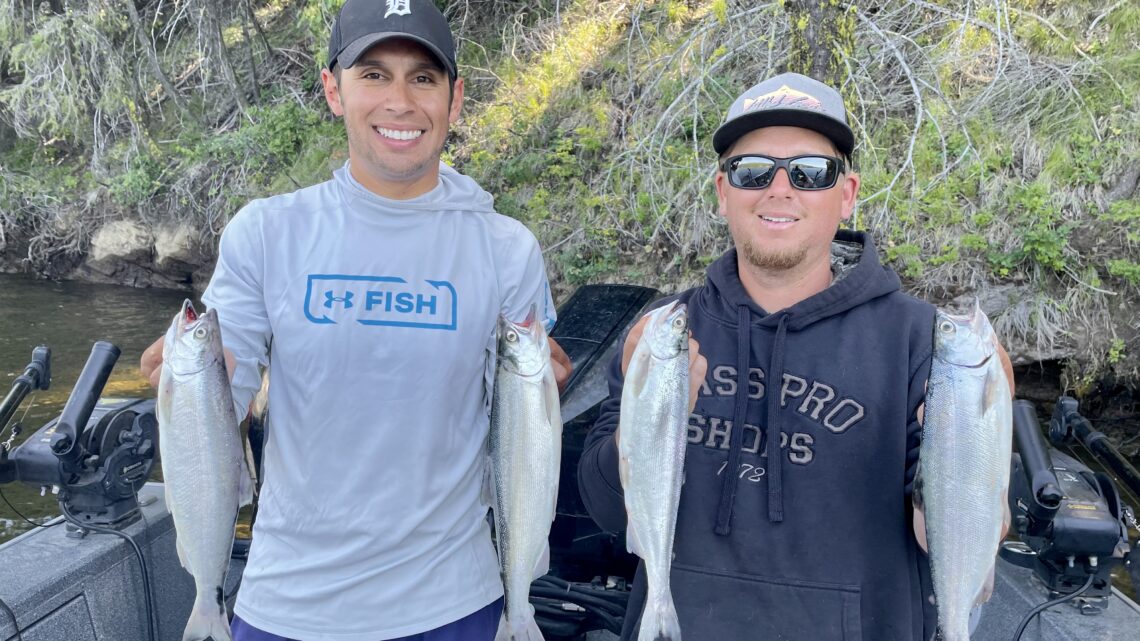 As Captain Kyle Sandy motored away from Mile High Marina, the bustle of McCall faded into the peaceful stillness of our alpine surroundings. And after weeks of near-triple-digit heat in the Treasure Valley, the cool mountain air felt incredible!
Upon arriving at our fishing grounds, Kyle, his wife Kathryn and I deployed four rods on downriggers, plus a surface runner. Our target for the day—and the Sandys' target just about every summer day at Payette Lake—was a cooler full of Kokanee salmon. Our setup included a buffet of locally-made Kokabow dodgers and lures tipped with Kyle's personal recipe of cured shoepeg corn.
Kyle and I chuckled at the absurdity of fishing with corn. "I'll never understand why they like it so much," he said. "But I wouldn't want to fish without it."
Kyle and Kathryn are the owners of Fish and Fur Outfitters, a guide service that offers Kokanee fishing trips, coyote hunts (the "fur" side of the business) and snow goose hunts (for those who prefer feathers). I was excited to learn more about their operation—especially considering that just a couple years ago, no one would have dreamed of guiding on Payette Lake.
For years, Idaho Fish and Game (IDFG) has sought to balance the populations of Payette's two primary game species—Kokanee and Mackinaw (lake) trout. Kokanee are popular with anglers because they are great table fare and are usually easy to catch with the right trolling setup. Mackinaws, on the other hand, are unique trophy fish, capable of living 50-plus years and reaching epic sizes. Payette has produced fish over 40 inches, and bigger monsters likely exist!
Kokanee and Mackinaw are often found together, but when the balance is off, the fishery suffers. If too many lake trout are present, they eat all the Kokanee and struggle to grow for lack of food. Further complicating the Payette situation is an abundance of northern pikeminnow, which also eat Kokanee.
In recent years, Southwest Regional Fisheries Manager Jordan Messner and his team have ramped up IDFG's Kokanee stocking (1.8 million between 2020 and 2023, Payette's first stockings since 2014) while removing hundreds of Mackinaws. The strategy appears to be working—for the past two summers, Payette has offered steady Kokanee catch rates for guides and recreational anglers alike.
"It's great to see it bounce back," Kyle said. "Obviously it helps us and what we offer, but this is such a cool fishery. I think having it back on the map is good for everyone."
Kokanee can be finicky, and it took us a couple hours to dial in a consistent bite. We had a lot of noncommittal drive-by hits early, but a location change by Kyle and tireless lure experimentation by Kathryn—including adding two double dodger setups—turned our morning around.
It was classic Kokanee fishing. After 20 minutes without a bite, BAM! We would double or triple up, creating a whirlwind of rods, lines and nets. Before we knew it, we'd boated a limit of 14-to-17-inch keepers. We were enjoying the picturesque weather and finishing off a second limit when I popped a bouncing rod off the downrigger clip.
"This one's not a Kokanee!" I announced. Sometimes, a non-Kokanee at Payette means an annoying pikeminnow (we caught several). But the weight of this fish and its big, side-to-side head shakes told a different story.
"Nice Mackinaw!" Kyle shouted as the fish came into view. "Barely hooked, too. Be careful!"
After a few nervous moments, Kyle slid the net under a chunky, two-foot lake trout. I've caught Payette Mackinaws in that size class before, but they've never looked so fat and happy. It's a small sample size, but it suggests a leaner lake trout population could improve the Mackinaw fishing, too.
My bonus lake trout was the perfect exclamation point on a great morning with Fish and Fur Outfitters. This husband-and-wife duo is fun to fish with, and they sure know how to put Kokanee in the boat. I enjoyed making two new friends, catching a delicious dinner, and experiencing Payette Lake's encouraging Kokanee comeback firsthand. Let's hope it's here to stay. Tight lines!
Want to book a trip with Fish and Fur Outfitters? Call (208) 936-5180 or visit fishandfuroutfitters.com.