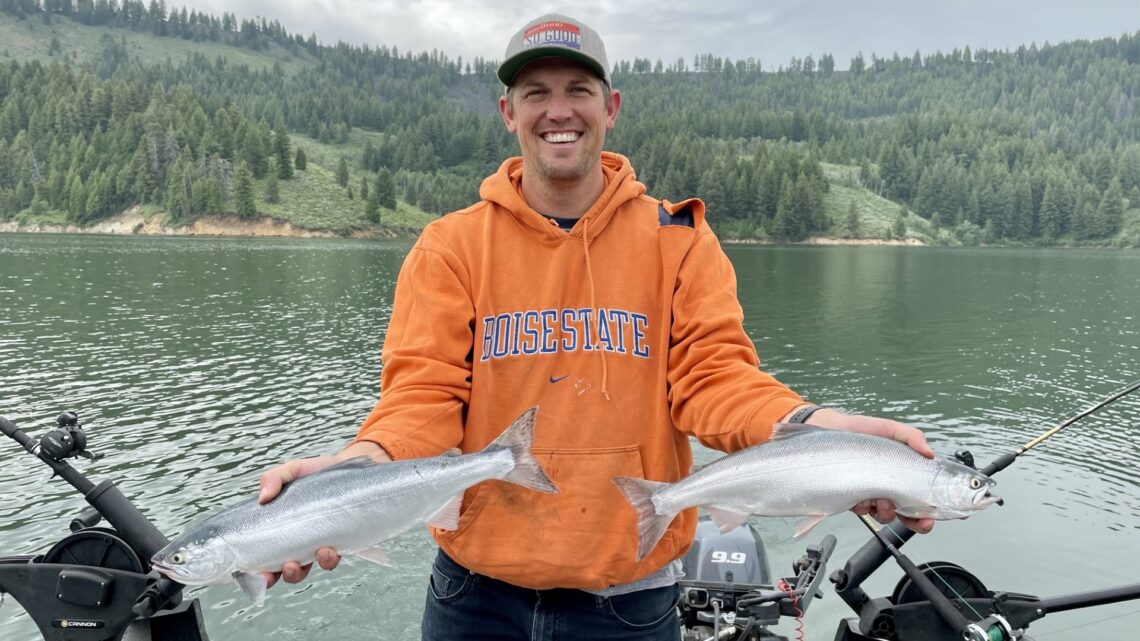 Summer took a while to arrive, but it's here in full force now! Hundred-degree days have become the norm across southern Idaho, so make sure to hydrate and protect yourself from the sun as you venture out. Fishing the morning/evening hours or heading to higher elevation are good ways to beat the heat. The good news is there are still plenty of quality fishing options available. As you plan your summer getaways, here are a few ideas to get you started:
Last Call for Kokanee!
It has been a solid season for Kokanee anglers, but things will wind to a close soon as the adult fish start turning red and gathering near creeks for their annual spawning run. BY mid-August, most of the big fish will be transitioned and focused on the spawn. As the season enters its final weeks, here's a look at how the "Big Four" local lakes are fishing:
Anderson Ranch: The story at Anderson is low volume, awesome size. Anglers are occasionally filling a 15-fish limit, but for the most part, grinding for a handful of fish is the norm. They are worth it, however—most Anderson fish have been 17-to-21 inches this season! Recent reports indicate the fish are 25-to-35 feet down. Orange, pink and white are good colors to start with.
Arrowrock: This fishery has been hit-or-miss, with plenty of good days but lots of slow ones, too. The fish are a notch below Anderson, but still good-sized at 14-to-17 inches. Current depths are 30-to-45 feet. Orange has been the best color, but it's often a mixed bag.
Lucky Peak: Reports from Lucky Peak have been similar to Arrowrock, with the added challenge of more ski boat traffic and bigger crowds in general.
Payette Lake: Kokanee fishing is back in McCall! Payette has been the most consistent fishery for catching a limit, although the fish are definitely smaller. Keepers range from 12-to-16 inches, and there are usually lots of 8-to-10 inchers in the mix. Purple, orange and pink are good colors, but it pays to use a variety. Expect to catch some pikeminnow and maybe a nice Mackinaw trout!
Alpine Lakes (Trout)
Mid-July usually signals green flag racing at most of Idaho's alpine lakes, and with the current heatwave, I would expect all but the very highest fisheries to be snow-free and ready for exploration. Fishing alpine lakes usually isn't complicated. Choose a destination (Idaho Fish & Game's online planner is a useful tool) and hike in with an ultralight spinning or fly rod and a small tackle box filled with your favorite spinners, Rapalas and flies. The fishes' growing season corresponds with when anglers can access these lakes, so the bite is usually pretty good for cutthroat, rainbow and brook trout, along with occasional surprises. Pro tip: pack in a float tube. It will be worth the effort!
Snake River (Bass, Catfish)
The Snake has been fishing really well for smallmouth—my last two outings have yielded about 15 bass per trip (and some nice ones!) fishing with plastic crayfish, crankbaits (when the weeds allow it), drop shots and topwater plugs. Deep areas with current tend to hold more fish when it's hot. Try fishing similar areas—particularly the tail-end of deep current seams—for channel catfish. A piece of cut bait, shrimp or a live night crawler will usually get the job done.
Boise River (Trout)
Flows are still a bit high, but definitely fishable. I've seen some decent reports from anglers catching fish on Rapalas, night crawlers, nymphs and streamer patterns. IDFG also stocked some leftover Chinook salmon in the river in mid-July. It's tough to fish in town right now because of all the float traffic between Barber Park and Ann Morrison Park. If you fish outside those areas, you should be fine. I expect fishing to continue improving as we move closer to fall, as the flows should mellow out even more. The South Fork Boise River has also been producing some nice rainbows for fly and spin anglers (make sure you read and abide by the special South Fork regulations if you go).
Stay cool out there, and tight lines!