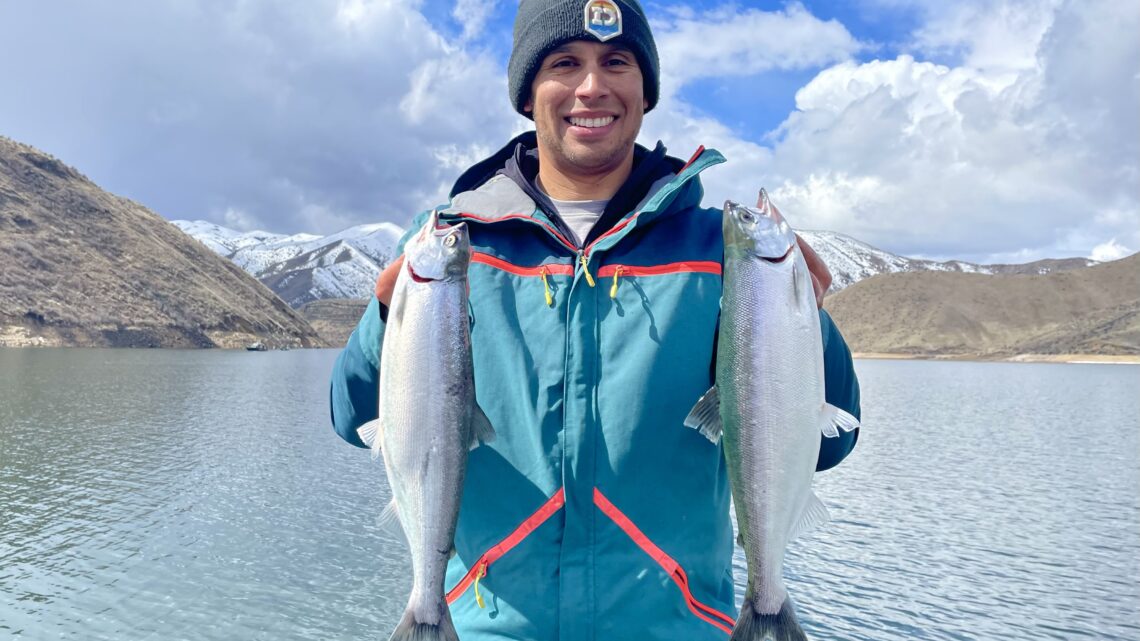 Spring is here, folks! After prolonged winter fishing conditions, we are finally seeing some nice weather across southern Idaho, and with it comes improved opportunities at many of our favorite fisheries. Bass season is firing up, Kokanee salmon are available and crappie fishing is getting better every week! As you plan your upcoming trips, here are a few ideas to get you started:
Arrowrock/Lucky Peak (Kokanee)
Kokanee fishing at these Boise River reservoirs got off to a hot start in late March, but rising water levels and unpredictable weather patterns made things inconsistent for much of April. As conditions stabilize, fishing should improve, and the Kokanee in the system this year are already good-sized. On a recent trip, my group caught five fish over 16 inches, with a couple of bonus trout mixed in. We caught our fish in 10 to 15 feet of water trolling dodgers and hand-tied hoochies tipped with scented corn. As the water warms up, the fish will head deeper—I would anticipate finding them in 20-to-40 feet for the next couple weeks. As always, use your electronics to see where fish are holding and adjust as necessary.
Snake River (Bass, Catfish)
Water temps in the Snake have crept over 50 degrees, which means smallmouth bass and channel cats are starting to chew. For bass, working shallow shoreline structure with crankbaits, jigs or soft plastics is usually an effective spring strategy. If the fish are holding in deeper water, you might need to target them with a drop shot or Ned rig. For catfish, look for deep holes and riffles and fish a piece of fresh cut bait near the bottom. Crappie, sucker and pikeminnow are all effective bait choices. Keep an eye on flows and use caution when boating this time of year, as water levels can change quickly.
Brownlee/C.J. Strike (Mixed Bag)
Water levels finally came up at Brownlee, improving boat access. Early season bass fishing has been really good, with most anglers focusing on shoreline crankbait and jerk bait presentations. Crappie have been hit-or-miss, but if you locate a school, there are usually some keeper-sized fish in the mix. Use panfish jigs tipped with crappie nibbles in 20-to-40 feet of water. Catfish are always a possibility at Brownlee. Soak cut bait to target one, or you might catch one on crappie or bass gear, too. C.J. Strike has been inconsistent by its high standards, but bass fishing is starting to pick up. Trout can be targeted trolling between the dam and the Narrows. Crappie are scattered, but they're schooling up more as the water warms. If you can't find a good vertical jigging scenario, try deep trolling—on a recent trip, I caught a stinger full of 12-to-14-inch crappies trolling crankbaits 35 feet down.
Hagerman Valley (Mixed Bag)
I featured Hagerman last month, but it bears repeating as one of my favorite spring fishing destinations. Rainbow trout, including some trophy-sized fish, are plentiful in the Snake River as well as the many spring-fed creeks and ponds that crisscross the valley. Sturgeon opportunities also abound, along with spots where anglers can target bass, tilapia and more. It's an awesome place to spend a warm spring day, or camp for the weekend. Enjoy the awesome weather, and tight lines!