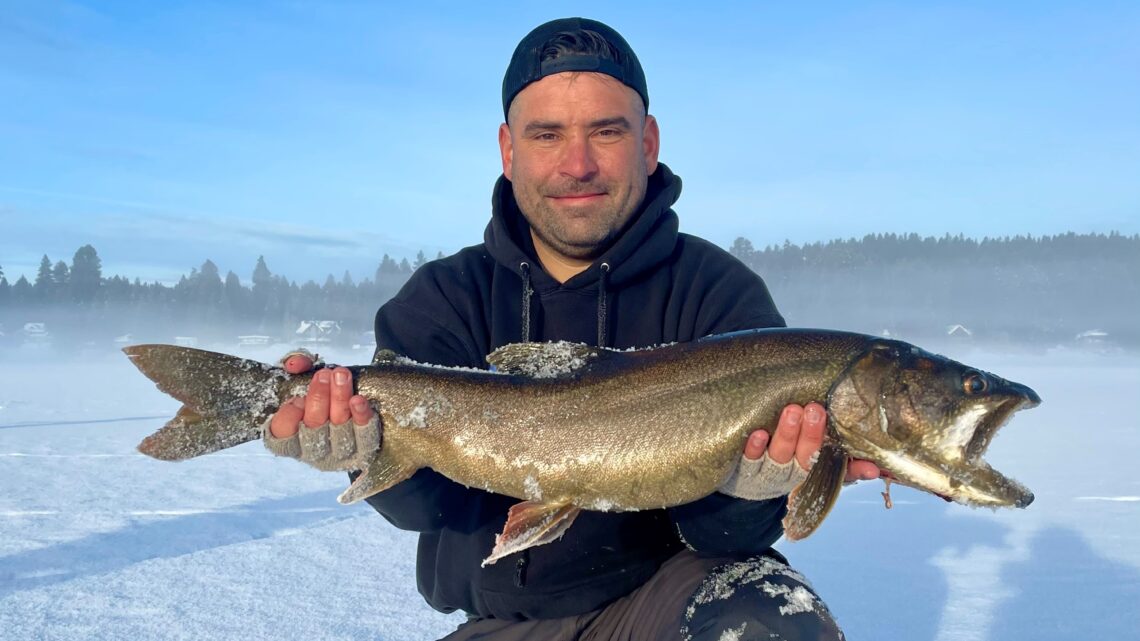 February marks the final month of reliable ice at many local fisheries (although some will likely stay frozen into March). Ice conditions have improved thanks to colder temperatures, especially at higher elevations. As you plan your trips, here are some destinations to consider. As always, I recommend fishing on at least four inches of ice, using the buddy system and drilling test holes as you go.
Payette Lake (Mackinaw Trout)
Payette currently has six-plus inches of solid ice, with relatively little slush and snow on top. Payette offers the unique opportunity to catch massive trophy fish through the ice—Mackinaw trout that can surpass 40 inches long! It is not, however, a high-volume fishery. If you go, expect to put in a lot of effort for a small handful of opportunities (catching one nice Mackinaw is a success). Most anglers use white tube jigs tipped with a piece of cut sucker, pikeminnow or Kokanee. Spoons, swimbaits and bucktail jigs can also be effective at times. Mackinaw are often found in deep water, anywhere from 60 to 90 feet, so electronics are vital. Public access is tricky at Payette, so many anglers fish near the marina in town. Hiking to explore other areas can pay off with better quality fish. I recommend releasing large lake trout, which take decades to reach trophy size.
Mountain View Reservoir (Trout, Perch)
With low water conditions hampering efforts at Magic and Mormon reservoirs, the Duck Valley Reservation has been home to the most consistent trout fishing this hardwater season. Mountain View is the go-to ice fishery, and it has been producing solid catch rates on 15-to-20-inch rainbows. Anglers are catching trout on jigs and dead sticks with shrimp, cut bait and worms. Big perch are also possible (perch pattern lures are a good bet for both species). If you go, get there early—the bite often dies off by late morning. Duck Valley requires a separate permit, which cost $18 per day or $100 for the year.
Lake Cascade (Perch, Trout)
It has been a good perch season at Lake Cascade. The fish are actively chasing minnow patterns like jigging Rapalas and, as usual, there are plenty of 14-to-16-inch jumbos being caught. Also as usual, they are hard to get to on foot, with the majority of the fish being found in 30-plus feet of water out in the old river channel. The good news is the ice and slush conditions have improved, and snowmobile travel is a lot easier than it was throughout most of January. Don't overlook the trophy trout possibilities at Cascade. I always like to have a trout rod or two out while I'm jigging for perch, and big rainbows often add some excitement to the day. For the latest reports, stop by Tackle Tom's or call (208) 382-4367.
Other Options
Magic Reservoir continues to produce low numbers on rainbow trout, but they are usually big…Horsethief remains a consistent bet for friendly access and pan-sized trout…For multispecies action, try Dog Creek Reservoir near Gooding or Ben Ross near Council. Both are home to bass, trout and a variety of panfish…Bear Lake on the Idaho/Utah border has frozen and provides trophy opportunities for Mackinaw trout and Bonneville cutthroat. Stay safe out there! Tight lines!