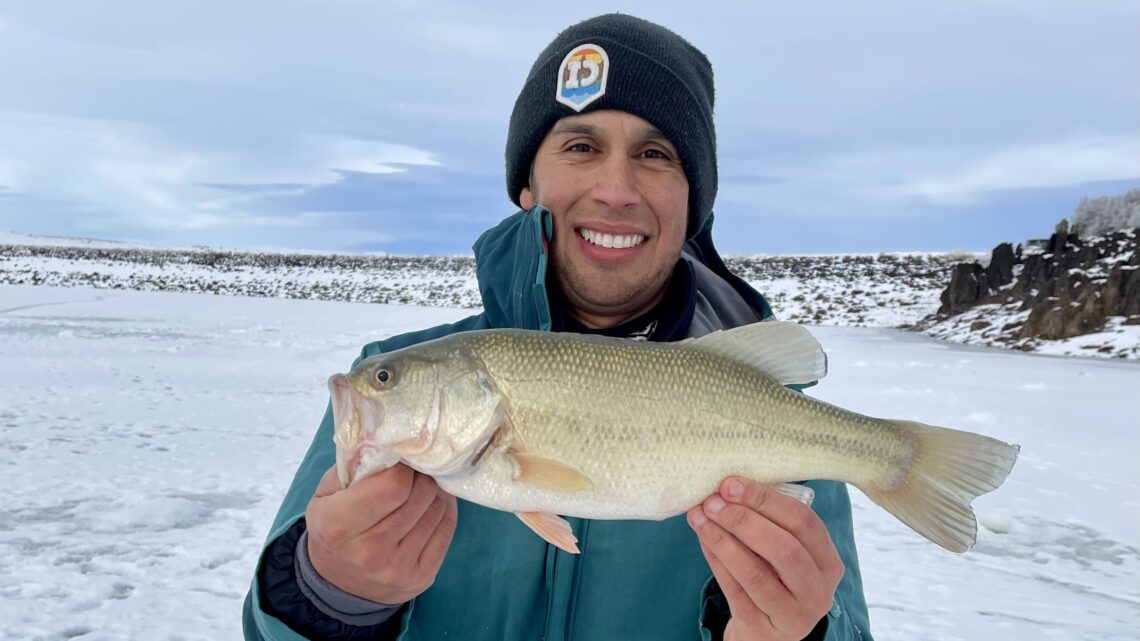 Happy New Year! January is a prime ice fishing month, but mild weather is creating tricky access and lots of slush at many fisheries. Here are the top options as of this writing (January 12). Stay safe out there, and remember that ice conditions can change quickly. I recommend fishing with a partner/group, drilling test holes as you go and only fishing if you find at least four inches of solid ice.
As a friendly reminder, Idaho fishing licenses are based on the calendar year, so you need a new one for 2023. In addition to tackle shops, you can purchase a license online through the IDFG website.
Horsethief Reservoir (Trout)
I fished Horsethief over New Year's weekend with my young daughter and some friends. We found 8-10 inches of good ice, with a couple inches of slush and snow on top. Action was steady for pan-sized rainbow trout. Horsethief trout can be finicky biters — I like to use small-profile lures like a teardrop jig or tungsten nymph tipped with a mealworm or waxworm. Rainbow trout are the most common catch, but Horsethief also has brown trout, brook trout and Kokanee salmon.
Ben Ross Reservoir (Mixed Bag)
I ice fished Ben Ross for the first time in early January. We found 10-14 inches of solid ice, with one caveat—the edges were extremely soft. We made it on, but other groups turned back when they saw how bad the edges were. Bringing planks is highly recommended! Once we got on, fishing was excellent. We caught more than a dozen bluegill, several trout, a few largemouth bass and one big crappie. Our best action was in 20-25 feet of water using small tungsten jigs and spoons tipped with waxworms. Note: I have heard similar reports about deteriorating edges from Mann Creek Reservoir and Salmon Falls Creek Reservoir. Planks (2x4s or similar) are likely the only way to get on without getting wet.
Lake Cascade (Perch, Trout)
The warm spell is causing messy conditions on Cascade, with inches of slush on top of the ice in many areas. The best action is on the north end of the lake, where anglers are catching both perch and trout. Perch-colored jigs, spoons and jigging Rapalas are usually the way to go at Cascade, and it's a good idea to have some bait rigs out, too. For the latest reports, stop by Tackle Tom's or call (208) 382-4367.
Magic Reservoir (Trout)
The recent drought has taken a toll on Magic, which was once a high-volume fishery for both trout and perch. Only the southern portion of the lake has held water in recent years, and dried-up spawning grounds have all but eliminated the perch. The good news is there are still plenty of rainbows, and the fish are big, averaging over 2 pounds. Jigs and spoons in red, white or pink are a good place to start.
Warm Lake (Trout, Kokanee)
Warm Lake has safe ice, with plenty of snow and slush on top. Action has been decent for stocked rainbow trout and small Kokanee salmon. Brook trout, bull trout and Mackinaw trout are also possible through the ice, but they are much less common. For the latest conditions, or to book an overnight stay at Warm Lake (the best way to fish it, in my opinion), call North Shore Lodge at (208) 632-2000.
Mountain View Reservoir (Trout, Perch)
Mountain View Reservoir on the Duck Valley Reservation has safe ice and is fishing well for good-sized trout and occasional jumbo perch. It requires a separate permit ($18 per day or $100 for the season).
Dog Creek Reservoir (Not safe)
It sounds like Dog Creek has frozen over, but I have yet to see a report of safe fishing conditions.
Payette Lake (Not safe)
Payette is one of the last lakes to freeze. It does have some ice, but not enough to fish on yet.