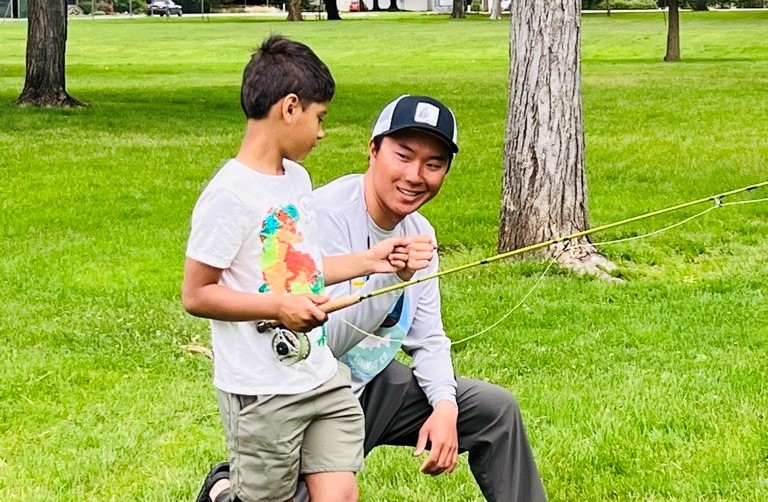 There's no doubt in this angler's mind—fishing is great for the soul. If I've had a hard week at work or I'm dealing with personal challenges, an afternoon on the water is just the boost I need.
Here in Boise, a national nonprofit organization has established a chapter aimed at helping local kids in need experience the mental health benefits of fishing. The Mayfly Project of Boise helps kids in foster care, adopted children, and kids involved with Idaho Relatives as Parents by teaching them how to fly-fish. Mayfly Project mentors teach kids the basics of casting, fish handling, river conservation, entomology and more, helping them establish a relationship with Idaho's great outdoors through a series of five lessons.
The local chapter has 20 volunteers who devote their time and talents to mentoring. The first four lessons are 3-to-4-hour trips, and the fifth outing is an all-day adventure. Each angler who completes the course receives a new fly rod, reel, line, backing, tippet, leaders, flies, a net and polarized sunglasses.
"Fishing and being outdoors have been shown to improve our overall well-being and be a powerful tool to combat mental health issues," said Kimberly Cordero, LCSW, Mayfly Project Boise's lead mentor and owner of NView Behavioral Health Clinic of Idaho. "We just completed our second year of mentoring Treasure Valley kiddos, and it was amazing!"
The Mayfly Project provides mentorship through volunteers and gear is provided through fundraised dollars, making the entire experience free for participants and their guardians. According to Cordero, the organization's biggest need is recruiting kids to participate. If you know someone who may be a good fit for the program—or if you'd like to get involved by volunteering or donating—visit themayflyproject.com/boise.
Fishing has helped me get through many difficult times in my life. I wish the Mayfly Project all the best in helping bring those same healing benefits to kids in our community. Tight lines! J