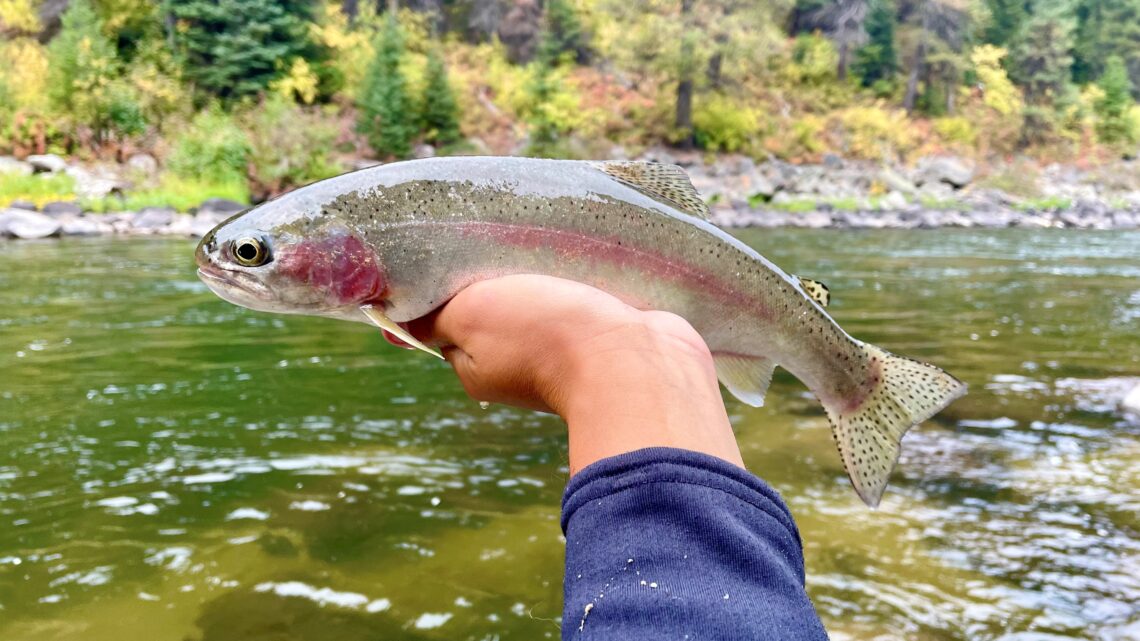 October has been an absolutely gorgeous month across southern Idaho. With perfect daytime temperatures and ideal fishing conditions, I hope you're getting a chance to get out and enjoy it! From local trout streams and ponds to larger reservoirs, there are plenty of options for good fishing. Here are a few ideas to get you started:
Payette River (Trout)
The Payette River is one of the more underrated fisheries in our region, and fall is the best time to fish it. With lower water levels and little rafting traffic, it's easy to move around and target the deep pools and riffles trout love. Wild rainbows are the most common catch, and it's not uncommon to see fish in the 16-to-18-inch range. Whitefish, pikeminnow and even perch also show up on occasion. Rainbow trout pattern Rapalas, spinners, streamers and small nymphs are all effective options, and so is drifting a nightcrawler behind some small sinkers or a float. West of Black Canyon Dam, the Payette turns into a bass fishery, and October is usually the last chance to catch a few big smallmouth before the winter chill shuts the bite down.
C.J. Strike Reservoir (Mixed Bag)
The always-reliable C.J. Strike is a fun place to fish in the fall, as the vertical jig bite for crappie and other panfish picks up. Look for schools of fish in 20 to 40 feet of water and target them with double jigs tipped with crappie nibbles or a chunk of worm (which is more likely to attract bites from perch and bluegill). A big rainbow trout is always a possibility, and that's an adventure on ultralight tackle. To target trout specifically, try trolling with spoons or pop gear near the dam. Bass will still play, too. I like to target them with a Carolina rig plastic crayfish, a deep diving crankbait or a Ned Rig.
Boise River (Trout)
The Boise River always seems to fish best in the fall and early winter, when ideal wading flows and lighter traffic often make fishing the Boise a breeze. Venture off the beaten path to find big, elusive wild rainbows and browns. These fish can show up anywhere, but the popular access points in town are more likely to hold smaller stocked fish. The most popular tackle options are nymphs like the pheasant tail, small spinners or bait drifted through deeper holes behind some split shot weights. To target bigger fish—especially predatory browns—I like to throw a larger minnow imitation like a Rapala. Keep in mind that brown trout are about to spawn, so catch-and-release is recommended.
Local Ponds (Mixed Bag)
October is one of the busiest months of the year for the Idaho Fish & Game stocking trucks. Loads of trout are showing up at ponds across southern Idaho, and they are usually eager to feed during their first few weeks in a new environment. Spinners, crankbaits, flies and bait are good choices—power bait, in particular, usually works well on stocked rainbows. Many ponds also have resident populations of largemouth bass, bluegill and other panfish, and with the warm weather we've been having, they should still be on the chew, too. Weedless soft plastics or spinnerbaits are the best bets for bass, while panfish will take small jigs, bead head nymphs or a small piece of nightcrawler under a bobber. Tight lines!