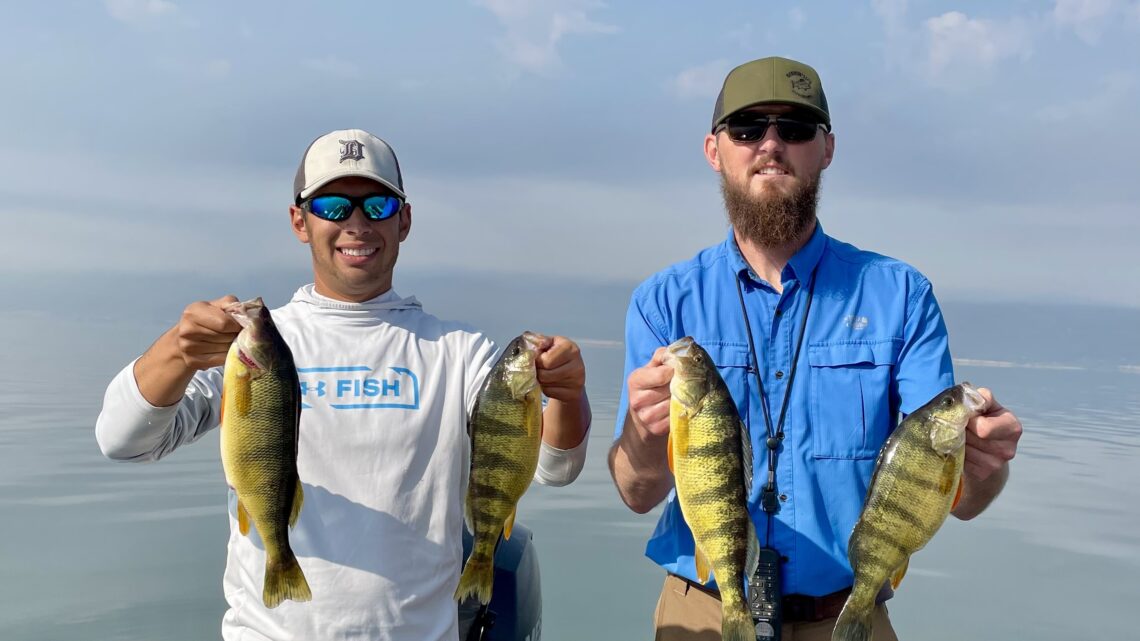 Lake Cascade is one of the fishing gems of Idaho—and the entire Northwest, for that matter. The look a Cascade jumbo brings to the face of a Midwesterner who has spent his whole life catching perch says it all: there might not be a better trophy perch fishery in North America.
Catching these giants isn't easy, though. As many anglers attest, Cascade can be a difficult place to find consistent success. The lake's huge size gives the perch plenty of hiding spots, and their behavior is often more finicky than typical perch fisheries.
Fortunately for local anglers, guide Chris Weber can help soften the learning curve. Chris, who honed his perch skills in his native Wisconsin, began guiding on Cascade last year and is building a reputation as a jumbo perch whisperer.
I recently joined Chris on an early-fall perch hunt. Also on board were Patrick Durkin, a Wisconsin-based columnist and Meat Eater contributor, and his wife, Penny. Between Chris and the Durkins, the Cheeseheads had this Michigander outnumbered three-to-one!
In the morning chill, we retrieved crayfish traps Chris and Pat had set out the night before. They yielded plenty for a Meat Eater-quality boil. Then, we set off to fish.
"Every lake has good fishing spots," explained Chris on the drive. "But I think of Cascade as a 'spot on the spot' fishery. You really have to have your locations dialed in, because the fish move so much."
We set up on a mud flat in 20 feet of water and deployed our tackle—drop-shot rigs with a live worm. While Cascade can be a technical fishery, simple tackle usually works best for me. Chris agrees.
"It's easy to overthink it," Chris said. "There are days when aggressive baits will work, like a swimbait in the spring or a Rippin' Rap through the ice. But as a guide, I go with the most productive methods."
Minutes after arriving at our first spot, I felt the telltale bump of a fish and set the hook. A 13-inch perch soon joined us on board—an absolute trophy anywhere else, but simply a nice one on Lake Cascade. Chris and I bumped fists. A quality start!
The biggest thing I learned from Chris was how Cascade schools operate. In many lakes, perch live in massive pods. Once you've found them, it's game on. But at Cascade, particularly with the jumbos, a "school" often has less than a dozen fish. The key is to find a productive area and stay patient, waiting for the schools to come through every 10-to-20 minutes.
Less than an hour into our morning, I struck gold, hooking a fish that fought so violently, I was convinced it was a smallmouth bass. Instead, we boated a behemoth perch—15.25 inches long and 2.2 pounds. Even Chris, who sees more jumbo perch than just about anyone, was blown away. What a fish!
The rest of the day unfolded in similar fashion (although I swear those Wisconsin accents got thicker as we went!) We caught fish at three locations, and while we had a few dry spells, they were almost always interrupted by a roving pack of jumbos.
Perch weren't the only fish on the docket. Our group also boated a half-dozen rainbow trout, several bass, a pikeminnow, a sucker, a huge crappie and a pumpkinseed sunfish. Every catch was fun, but the jumbos were definitely the highlight. At one point, Penny caught 30 inches of perch on back-to-back casts. Moments later, I landed a 14.5. "You could fish for a lifetime in Wisconsin and never catch perch this big," Pat marveled.
As the afternoon heat set in, we pulled off and headed for home. Our group had boated more than 40 perch, and half of them were over 12 inches. We had to work for them, but with trophy-sized quality, it was well worth it. And Chris was one of the best guides I've fished with—he has a quiet confidence in his tactics, he's easygoing and super funny (even if he is a Packers fan).
Fall is a great time to fish Lake Cascade, and before we know it, ice fishing season will be here! Chris guides then, too, and he books up fast. Whether you fish with him or explore on your own, one thing is certain—at Lake Cascade, any cast could turn into the perch of a lifetime. Tight lines!
Want to go fishing with Chris Weber on Lake Cascade? Call (920) 728-2818 to book your trip. You can also find Chris through the Tamarack Resort website.