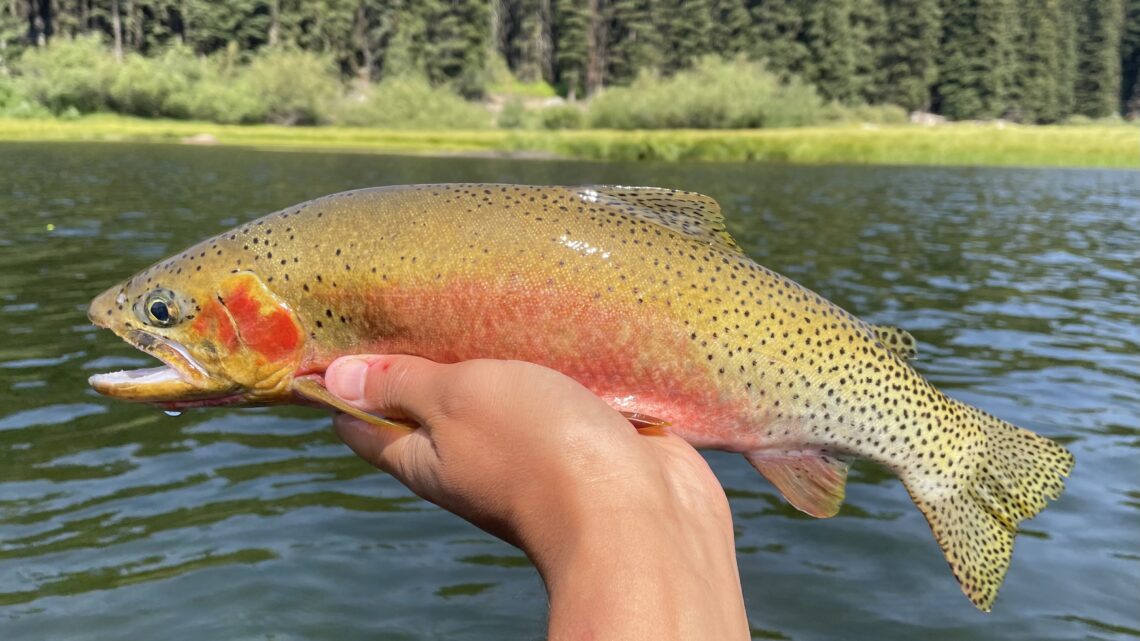 September is one of my favorite fishing months of the year! The summer heat is a thing of the past, and cooling water temperatures have fish on the feed as they prepare for the lean winter months ahead. From bass fishing in the Snake River to hitting trout streams and chasing trophy perch at Lake Cascade, there are plenty of options to enjoy. Here are some ideas to get you started:
Alpine Lakes (Trout)
It's last call for alpine lakes! September is a great month to visit them, as the crowds thin out considerably. Just make sure to bring layers (and lots of warm clothes if you're camping, it gets chilly at night!) Fishing out of a float tube is almost always the best way to go in alpine lakes, as it gives you access to the entire fishery and allows you to fish a wide variety of tactics. I recently hiked into Louie Lake in McCall and spent a glorious early fall day catching healthy westslope cutthroat trout. Rapalas, Panther Martin spinners and hopper patterns were the ticket for me. My friend Mark did equally well fly-fishing exclusively, picking up fish on leech and hopper patterns. Louie Lake, if you go, has trophy rules that require artificial lures and barbless hooks. There are countless alpine lakes to explore in the McCall, Cascade, Stanley and Idaho City areas. Get out and fish them before the cold weather arrives!
Snake River (Bass)
Bass fishing can be absolute fire in early fall, particularly for smallmouth in the Snake River. The fish sense cold weather ahead and put on the feedbag—it's not uncommon to catch smallies with gullets crammed with crayfish and minnows. Many lure options will work in the fall. Some of my favorites are crayfish-colored crankbaits, spinnerbaits, soft plastic crayfish, small swimbaits, drop-shot rigs and topwater plugs like the Whopper Plopper. If you find a fishy area, stay put! Fall bass will stack up in favorable feeding areas. Be prepared to move around and try several access points if you need to, as floating weeds can be a nuisance at times. In addition to the Snake River, you can find good fall bass action on the Payette River as well as C.J. Strike, Brownlee, Anderson Ranch and Swan Falls Reservoirs.
Lake Cascade (Perch)
Lake Cascade is notoriously finicky, but fall is one of the best times to fish it. The perch are hungry and active, and there's also good fishing for rainbow trout and smallmouth bass. Drop-shot rigs with live worms, Ned Rigs and crankbaits are good options, particularly the drop-shot for targeting perch. I recently fished Cascade with local guide Chris Weber, and we had an awesome day catching perch (and a little of everything, with seven species landed). Most of the perch we caught were over 12 inches, with the biggest one measuring in at 15.25 inches and 2.2 pounds. It's an awesome trophy fishery! For the most part, we found perch schooled up in 15 to 20 feet of water over mud bottoms near rocky transitions. Water levels are dropping, but the Blue Heron and Van Wyck boat ramps are still accessible.
Owyhee River (Trout)
The fall months are synonymous with brown trout fishing, and there's no better place to catch trophy browns than the Owyhee River in eastern Oregon. Fish can almost always be taken on the fly—hopper patterns, small zebra midges, pheasant tail nymphs and sculpzilla streamers are good options for early fall. Minnow imitations including Rapalas, spoons and spinners will also catch fish. Remember, fishing the Owyhee requires an Oregon license, and all brown trout are catch-and-release only. Tight lines!