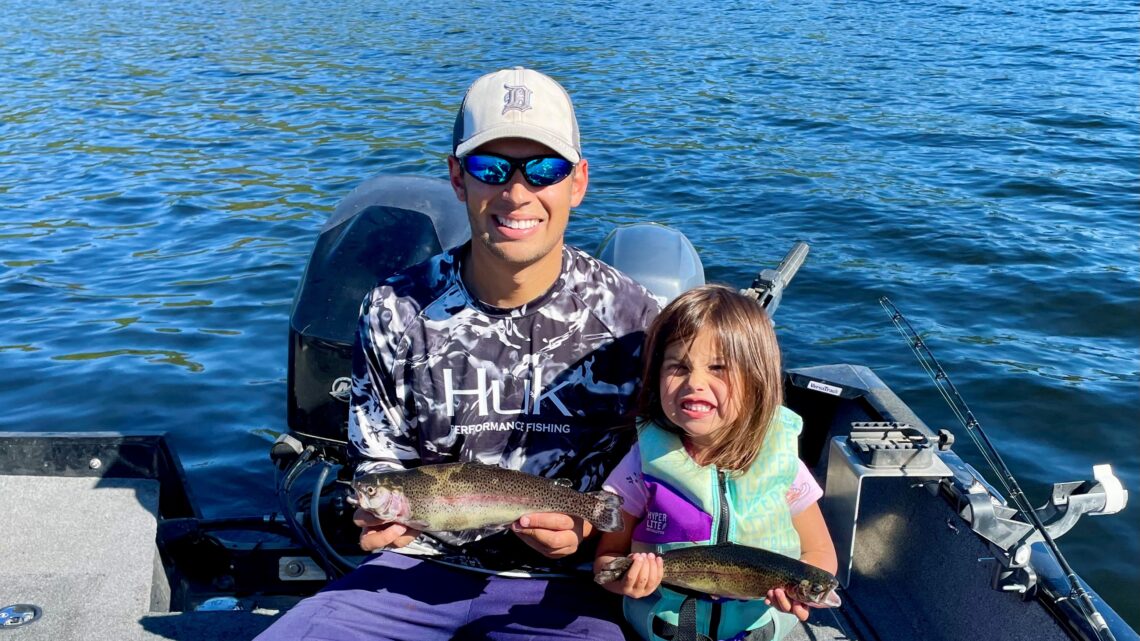 The heat keeps coming across southern Idaho, and with it comes challenges like low water levels and algae blooms. But don't despair! Despite the heat, there are quality fishing options across our region. Escaping into the mountains is always a solid option, and cooling off with a wet wading or float tube trip are great ways to beat the heat. As you plan your August trips, here are a few options to keep in mind:
Horsethief Reservoir (Trout)
Horsethief is a solid option for catching trout virtually year-round. Located about 10 minutes east of Cascade, the reservoir boasts beautiful alpine scenery and temperatures 10-15 degrees cooler than the Treasure Valley. There are dozens of established campsites, and plenty of bank and dock access for shore anglers. Spinners, spoons, worms and Power Bait are all solid choices. Horsethief is a great place for boats, as it is usually far less crowded on the water than on the bank. Trolling with wedding rings, hoochies and other pop gear tipped with worms and corn is a great strategy—my group caught two nice limits of trout in short order during a recent boating trip. And because it's a no-wake lake, smaller watercraft like canoes, kayaks, rafts and float tubes are a great way to get out and enjoy part of the lake to yourself. Stocked rainbow trout in the 12 to 15-inch range are by far the most common catch, but Horsethief also has brown trout, brook trout and Kokanee salmon.
C.J. Strike Reservoir (Mixed Bag)
One of the most reliable fisheries in our region, C.J. Strike continues to produce a variety of species as we head into late summer. Crappie are biting on vertical jigs as well as trolled crankbaits, and most are really nice slabs up to 14 inches. Bass, smallmouth in particular, can be caught on Ned rigs, soft plastics, jigs, crankbaits and occasional topwater plugs. Trout usually move a little deeper to beat the heat, but they can still be caught with bait or trolling rigs near the dam. C.J. is also home to sturgeon, catfish, bluegill, perch and more. There have been reports of algae blooms, but I've fished it twice in recent weeks with good success and no algae issues.
Boise River (Trout)
Flows have come down on the Boise in recent weeks, making it much more friendly for walk-and-wade fishing trips. Worms, spinners, dry flies, nymphs and streamers are all worthy options, depending on bug hatches and river conditions. My favorite strategy is throwing Rapalas, which work well for targeting brown trout as well as bigger, wild rainbows. Thousands of catchable-sized rainbows are stocked in the Boise every year, too, with the majority of fish going in between Barber Park and the Glenwood Bridge. On hot summer days, it is best to avoid the stretch between Barber Park and Ann Morrison Park, which is often crowded with folks floating the river.
Halverson Lake (Bass, Bluegill)
This desert gem is a personal favorite of mine. Late summer is a fun time to fish it because weed growth around the edges all but eliminates shore fishing—the only way in is with a float tube, which feels fantastic after a hot one-mile hike into the lake. Halverson is home to largemouth bass and bluegill. Many of the fish are medium-sized, but there are some big ones. Soft plastics, tube jigs, spinnerbaits and topwater frogs are good lure options for bass, while bluegill prefer small panfish jigs tipped with a mealworm. Both species can be caught on flies, too—a hopper-dropper setup with a small trailing nymph should do the trick. Tight lines!