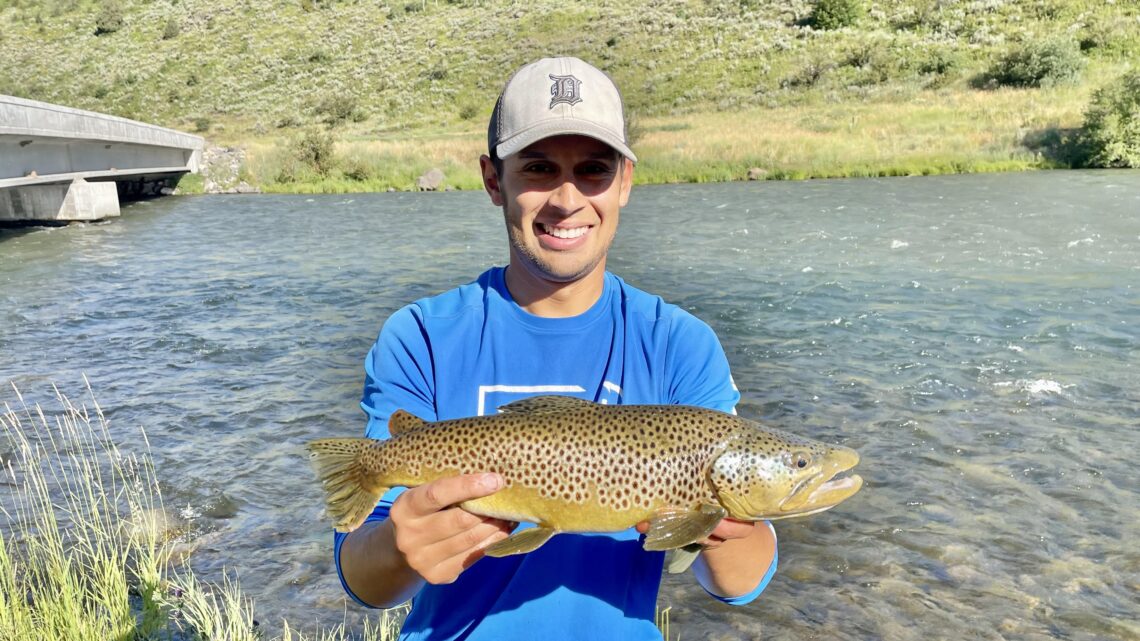 We're having a heat wave! Triple digit temperatures have become the norm across our region this month, but fear not! There are still plenty of opportunities to get out and catch some fish. As you plan your upcoming trips, here are some ideas to get you started (and a few might even help you cool off!).
Eastern Idaho (Trout)
I recently had the opportunity to fish some eastern Idaho trout streams that I hadn't visited in over a decade. To say they were good to me is an understatement! The east side of our state is absolutely loaded with quality trout waters, including awesome opportunities to catch cutthroat and brown trout, which aren't nearly as common in southwest Idaho.
I fished the Henrys Fork of the Snake River near Island Park, as well as one of its tributaries. Action was dynamite, as my partner and I landed over 30 nice trout, including several bruiser browns. Zipping small Rapalas through the current was our most productive strategy, and we also picked up a few fish drifting worms. If you're a fly angler, minnow-imitating streamers would be a good bet, along with caddis and stonefly nymphs, hoppers, and any hatching dry flies. When targeting browns, keep their predatory nature in mind. Something that looks like a small fish is almost always the best lure for big browns.
Eastern Idaho is beautiful (and a bit cooler) this time of year, and there's lots to see and do in the Island Park/Yellowstone area. I highly recommend making a weekend of it!
Owyhee Reservoir (Crappie, Bass)
Looking for an action-packed fishing trip the whole family can enjoy? Look no further than eastern Oregon's Owyhee Reservoir. Located less than two hours from Boise, Owyhee is home to a variety of species—including an absolutely loaded crappie population.
Crappie are a schooling fish known for having boom years and prolific populations, but they are especially thick at Owyhee right now. Just about every rocky point and shoreline has a school on it, and the fish aren't finicky. Just about any style of panfish jig will catch fish, and if you use two jigs at a time, there's a good chance you'll double up on crappie. Most of the fish are 8-to-10 inches, which is a good size for the frying pan.
Owyhee is also known as a trophy bass lake for both largemouth and smallmouth. They are harder to find than the crappie, but a solid effort usually yields several nice fish, and bass over five pounds are not uncommon. Be warned—even large bass lures like crankbaits, soft plastics and football-head jigs will occasionally get eaten by ravenous crappie!
Fishing Owyhee requires an Oregon license (one-day tags are available), and if you're launching a boat, you must have proof of a completed boater safety class in either Idaho or Oregon.
Alpine Lakes (Trout)
July marks the beginning of a short window anglers have to fish Idaho's high mountain lakes. Alpine lakes are a unique draw for many reasons. The scenery is breathtaking. Most lakes don't get a ton of traffic. And best of all, our window of accessibility coincides with peak feeding season for the fish that call these lakes home.
Cutthroat trout are a common find in mountain lakes. Rainbow trout and brook trout inhabit many alpine fisheries, too. More exotic species are available for those willing to put in the work. Golden trout, bull trout, arctic grayling and even tiger muskies can be found deep in Idaho's mountain wilderness.
Generally speaking, alpine trout fishing is pretty simple. Small dry flies, nymphs, grasshopper patterns, leeches and woolly worms are productive for the fly-fishing crowd. Spinners, spoons, Rapalas, jigs and bait (where legal) will catch fish on traditional gear. I recommend packing a float tube, which will give you access to the whole lake and maximize your chances of success.
Most alpine lakes are about a two-hour drive from the Treasure Valley, with the highest concentrations found in the mountains above Cascade, McCall, Stanley and Idaho City. Most trails should be accessible by now, but don't be surprised to find snow on the ground at higher elevations. Idaho Fish and Game recently published a handy list of tips for fishing alpine lakes.
Crane Falls Lake (Bass, Panfish)
Always a reliable summertime favorite, Crane Falls has been fishing well, especially for largemouth bass and bluegill. The lake is also home to crappie, perch, pumpkinseed sunfish and rainbow trout. Crane Falls is a perfect spot to fish from a float tube, pontoon, kayak or small boat (electric motors only).
The panfish—bluegill in particular—are big fans of small jigs tipped with a chunk of mealworm or night crawler. Look for schools gathered up around weed beds in 8-to-15 feet of water (although crappie and perch will often be found a little deeper).
For bass, pocket fishing with weedless soft plastics or buzzing spinnerbaits over the top of weed beds are usually productive strategies. You can also get into a decent topwater bite early or late in the day.
Trout are less active in the heat of the summer, but they can still be caught early in the morning. Fish over deeper water with spinners, Rapalas or flies, namely woolly worm, leech and streamer patterns.
Tight lines!