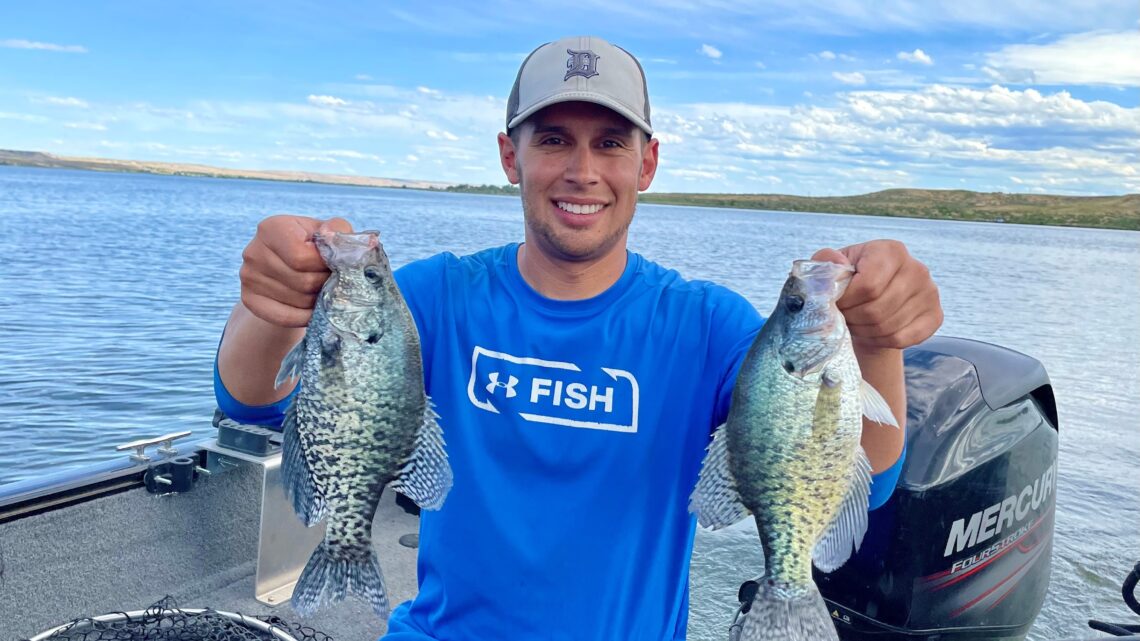 Summer weather has finally arrived (at least for the most part) and fishing options abound across southern Idaho. Our cool, wet spring weather is paying dividends, as many local reservoirs are filling up with needed precipitation after two years of drought conditions. As you plan your upcoming trips, here are a few ideas to get you started:
Ben Ross Reservoir (Bass)
This high desert gem is one of my favorite places to fish for bass. And this year, it's as full as I've ever seen it, which means there is plenty of classic shoreline cover for bass to hide in. Flipping plastics into flooded trees, bushes and weed beds is usually a can't-miss strategy. Running crankbaits along rocky shorelines or buzzing spinnerbaits along cover edges will also pick up fish, and topwater presentations can be effective when conditions are right. Ben Ross is a largemouth fishery, and it also holds crappie and bluegill. Catch rates are usually steady for bass in the 14-to-18-inch range. The lake has special rules (two fish limit, none between 14 and 16 inches). There is a boat ramp, an outhouse and not much else, so come prepared with hydration and everything you'll need for your trip.
South Fork Boise River (Trout)
I'm hearing good reports from trout anglers on the South Fork. This trophy fishery requires single, barbless hooks (artificial flies and lures only), but folks are having success on stonefly and salmon fly nymphs, streamers and occasional caddis flies (mostly in the evening hours). Spinners, Rapalas and other minnow imitations can also produce on the South Fork, which is home to wild rainbows and occasional bull trout. Flows have been unusually low so far this season—perfect for wading, but not high enough for drift boats. Keep an eye on river conditions, as it is bound to come up eventually.
C.J. Strike Reservoir (Mixed Bag)
I feel like I include C.J. Strike on the report just about every month, but it's such a steady and diverse fishery, it's hard to leave it off. Late spring/early summer continues to be productive for rainbow trout, which are often targeted when trolling, but are also snarfing up panfish and bass lures. It's not a bad problem to have, though. Strike grows big trout, and they are great eating. Panfish action has been a little hit-or-miss. Some days are dynamite for crappie; others are spotty or even slow. Trolling with crankbaits or vertical jigging are the primary options for targeting crappie and perch. Bass anglers are catching plenty of fish, primarily smallmouth, using drop shots, jigs, crankbaits and Ned rigs. Enjoy!
Duck Valley Reservation (Trout)
Fishing has been outstanding at all three reservoirs (Mountain View, Billy Shaw and Sheep Creek) on the Duck Valley Reservation. Catching fish really comes down to two things—willingness to make the drive, and choosing your preferred tactics. Trolling with spoons, pop gear or crankbaits will produce fish. So will casting spinners, spoons, crankbaits and jigs. Bait, including worms, shrimp and cut bait, is sure to attract some bites. And fly-fishing can be dynamite, especially with dark chironomid patterns, leeches, damselfly nymphs and woolly worms. Billy Shaw is fly-fishing only. The rainbow trout in these lakes usually average 16 to 20 inches and are great eating. A tribal permit is required ($18/day). Tight lines!