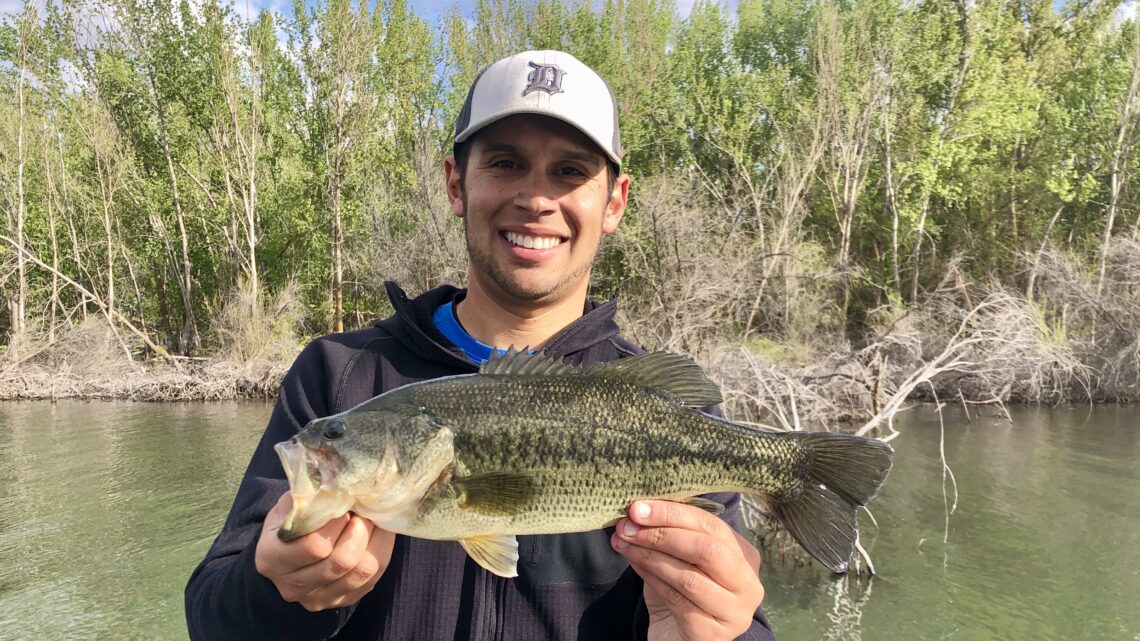 Our late-arriving spring created interesting fishing conditions in May, but it has been a productive month for anglers willing to adapt and put in the work. The cold, wet weather set a few fishing cycles behind by a week or two, but ultimately, the extra water should benefit Idaho fisheries. As you plan your trips, here are a few tips and reports to keep in mind:
Lake Lowell (Bass)
Lowell is about as low as I've ever seen it this early in the season — the result of a years-long drought catching up to us. The bad news is much of the flooded trees and vegetation where anglers typically concentrate their early-season efforts are either high and dry, or holding much less water than usual. On the positive side, the fishing hasn't suffered much. Catch rates have been decent to good for anglers pitching the remaining submerged cover, buzzing frogs and spinnerbaits over last year's weed beds, or knocking crankbaits along the rocky dam areas. The fish are the typical Lowell bass—14 to 18 inches, and 1.5 to 3 pounds. Big fish are extremely rare these days, but if you're a boat angler in the Treasure Valley, you can't beat Lowell for convenience.
Arrowrock/Lucky Peak (Kokanee)
It looks like we're in for a pretty good Kokanee season in southwest Idaho. Arrowrock and Lucky Peak have both been producing decent catch rates—Arrowrock, in particular, has some really nice fish up to 18 inches long this year. Anglers have been catching Kokanee and occasional trout by trolling the usual flashers and pop gear trailed by hoochies, wedding rings and Kokabow spinners tipped with corn. 1 to 1.5 MPH is the right speed, and fish can be anywhere from right below the surface to 30 feet down (and they'll likely head deeper as summer wears on). Lucky Peak is pretty low, but Arrowrock is relatively full, and both reservoirs have workable launches.
C.J. Strike (Mixed Bag)
Old, reliable C.J. Strike just keeps churning out fish month after month, year after year. Late spring marks the tail end of prime trout fishing season, and as usual, there are some beautiful rainbows averaging 14 to 18 inches, with 20-inch fish possible. Drifting bait near the dam or trolling with pop gear, spoons or crankbaits are effective methods for targeting trout. The crappie are starting to wake up, too, and anglers are reporting good catch rates of 10 to 14-inch slabs. Vertical jigging or trolling with cranks or long-lined jigs are good ways to catch crappie. Bass fishing is also solid, and it should only get better in the months ahead. Pitching shoreline cover, using jigs and drop shots in deeper water and running crankbaits, spinnerbaits and jerkbaits along points and rocky shorelines are all effective tactics.
Hagerman Valley (Mixed Bag)
Spring and early summer are a great time to check out the Hagerman Valley. Known as a haven for big rainbow trout, Hagerman offers boat and bank fishing in the Snake River, as well as a labyrinth of ponds and creeks at the state fish hatchery. Whether you prefer to fish with bait, flies or lures, the trout fishing here is usually reliable and often outstanding. Sturgeon, bass and tilapia are also common catches in Hagerman. The area offers a host of family-friendly campgrounds, hot spring pools, parks, museums and restaurants, too. It's a great place for a weekend getaway! Tight lines!