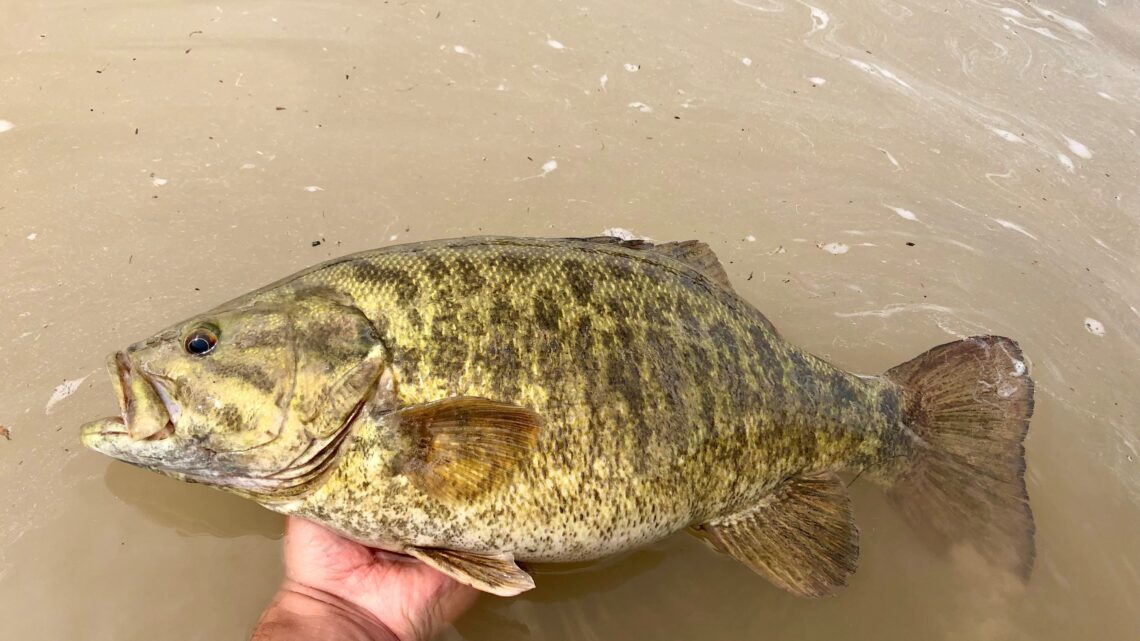 It has been a cool, wet, windy spring across southern Idaho. While the added rain (and snow!) is a welcome sight, the spotty weather has made it difficult to plan fishing trips and establish consistent patterns, particularly with warmwater species like bass. Still, there are good fishing opportunities to be had for those willing to brave the elements (or lucky enough to catch the occasional bluebird day). Here are some ideas to get you started as you plan your upcoming trips:
Snake River (Bass, Catfish)
I've said it before, and it bears repeating: some of the biggest bass of the season are the first ones caught, particularly when it comes to smallmouth on the Snake River. Big, spawning-sized adults become more active more quickly than their smaller counterparts as they prepare to spawn. I recently made a quick stop to fish some new territory along the Snake, and struck gold with a personal-best smallmouth that weighed six pounds! Slow-rolling crankbaits—I like red crayfish patterns, in particular—is a favorite early-season smallmouth pattern for me. Catfish are starting to stir as well. I caught an eight-pound channel cat moments after releasing my monster smallie, and anglers are starting to find good catch rates on cats using cut bait, shrimp and other bottom baits.
Local Ponds (Mixed Bag)
Ponds are great spring fishing options for a couple reasons. For one, Fish & Game stocks thousands of catchable-sized rainbow trout during the spring months, providing ample opportunity for anglers to catch trout on spinners, spoons, crankbaits, flies and bait. Bass, panfish and catfish are also common in many local ponds. Most importantly, ponds provide easy, convenient access, allowing you to hit short windows of good weather or make a spontaneous trip if conditions are favorable. Best of all? There are dozens of public ponds to explore across southern Idaho. Get out there and give them a shot!
Brownlee Reservoir (Bass, Crappie, Catfish)
Brownlee has been a good mixed-bag spot this spring, with anglers catching bass, crappie, channel and flathead catfish. The bass, which are mostly smallmouths, are moving into shallow coves and can be caught targeting points and rip-rap banks with crankbaits, jigs and jerkbaits. Brownlee's crappie schools are not as plentiful as those found at C.J. Strike or Owyhee Reservoir, but there are quality fish to be had if you can locate them. And catfish are always an option at Brownlee. Target channel cats with cut bait, shrimp or worms on the bottom. The larger, less common flatheads prefer moving prey like a deep-diving crankbait.
Boise River
The river has come up a bit, but it's still in fine shape for chasing rainbow and brown trout with spinners, spoons, Rapalas, flies or bait as of this writing. With the drought conditions, it probably won't swell as much as it usually does in spring/early summer, but do be mindful of the flows. High, muddy water on the Boise usually means it's best to turn your attention elsewhere. Tight lines!