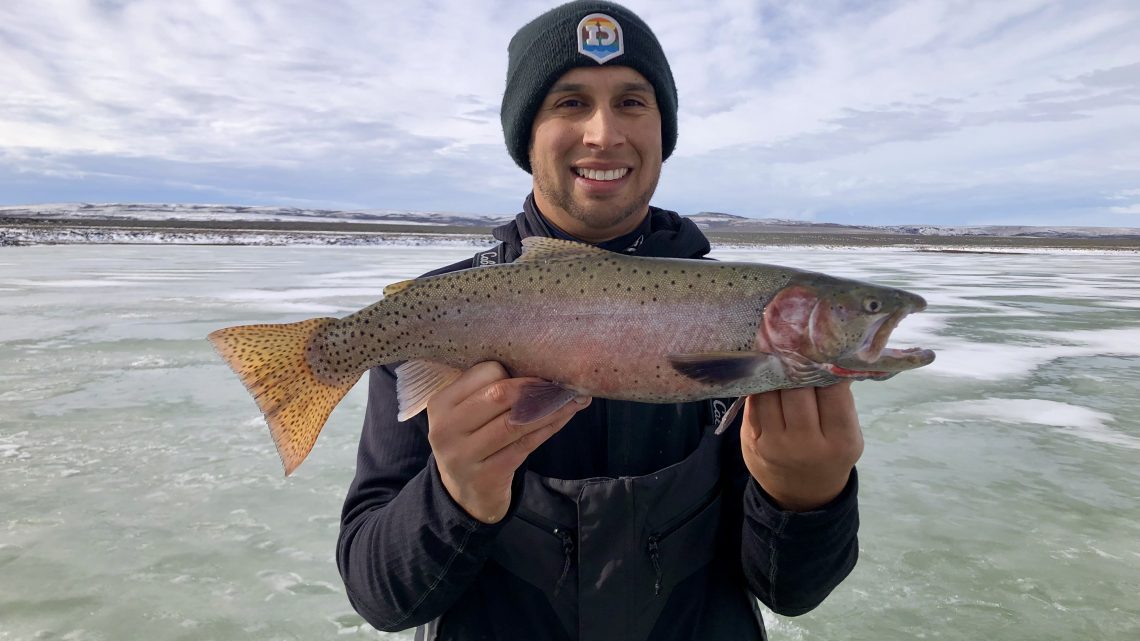 Ice fishing season has arrived in earnest across much of southern Idaho! It took a while thanks to lots of snow and some warmer-than-usual weather, but many popular ice fisheries are now open for business. Here are the latest ice reports and tips for helping you plan your winter adventures:
Cascade Ice Fisheries
Ice fishing is available on the "big three" winter fisheries near Cascade: Lake Cascade, Horsethief Reservoir and Warm Lake. After a snowy, slushy start to the season, conditions on all three lakes are starting to improve.
Lake Cascade traditionally starts out slow and heats up as we move into February, particularly for its coveted jumbo perch. Some anglers have been catching a few perch, along with some nice rainbow trout, but the big perch hauls are still ahead of us. Up until mid-January, snowmobile travel wasn't safe on the lake. A few sleds are starting to venture out, and having that mobility is key to tracking down the jumbos. Perch-colored spoons and minnow-imitating jigs like the Rapala Slab Rap and Salmo Chubby Darter are go-to presentations for perch anglers. If the fish are finicky, try sizing down to small tungsten jigs fished within inches of the bottom. Trout are usually caught higher in the water column.
Horsethief is a smaller, more accessible fishery that usually provides plenty of action for small-to-medium-sized rainbows trout, along with occasional Kokanee salmon and brown trout. I enjoyed a quick morning session there on New Year's Day and landed more than a dozen rainbows. Small jigs like the VMC tungsten nymph tipped with a mealworm are usually my go-to presentation at Horsethief.
Warm Lake splits the difference between Horsethief and Cascade. It's a bit of a drive to get back there, but the road is kept in pretty good shape all winter. Catch rates are usually steady for rainbow trout, small Kokanee and brook trout, and the size tends to be better than Horsethief (it's less crowded, too). Warm Lake also has big Mackinaw and bull trout that could show up and provide some excitement.
Payette Lake in McCall is a late freezer and does not have safe ice. It usually freezes over sometime in February, and when it does, it provides a unique Mackinaw fishery.
Magic Valley Ice Fisheries
Magic Reservoir has had safe ice for several weeks. Fishing results have been mixed—some anglers are catching nice trout, but the action has been hit-and-miss and there aren't many perch being caught yet. Thanks to another low water year, only the southern portion of the reservoir is available for fishing. Small spoons, tube jigs and perch-colored minnow patterns are good bets for Magic.
I have confirmed reports of safe ice at Salmon Falls Creek Reservoir, Oakley Reservoir, Lake Walcott, Mountain View Reservoir on the Duck Valley Reservation, and the Riddle Lakes in the Owyhee desert. I personally fished one of the Riddle Lakes and had a successful day—it was technical fishing, but the fish we caught had nice size. Fishing at Mountain View requires a daily (or annual) permit. Roads to some of these fisheries, Oakley in particular, can be tricky in the wintertime. Mormon Reservoir, Fish Creek Reservoir and Little Wood Reservoir are not viable fisheries this year because of low water conditions.
Open Water Fishing
Options are limited for launching a boat, as there is at least fringe ice covering the edges of many lakes. If you want to fish open water, the Boise River is probably your best bet. I've been catching a few browns and rainbows on bait and minnow imitations like a trout pattern Rapala. Tight lines!