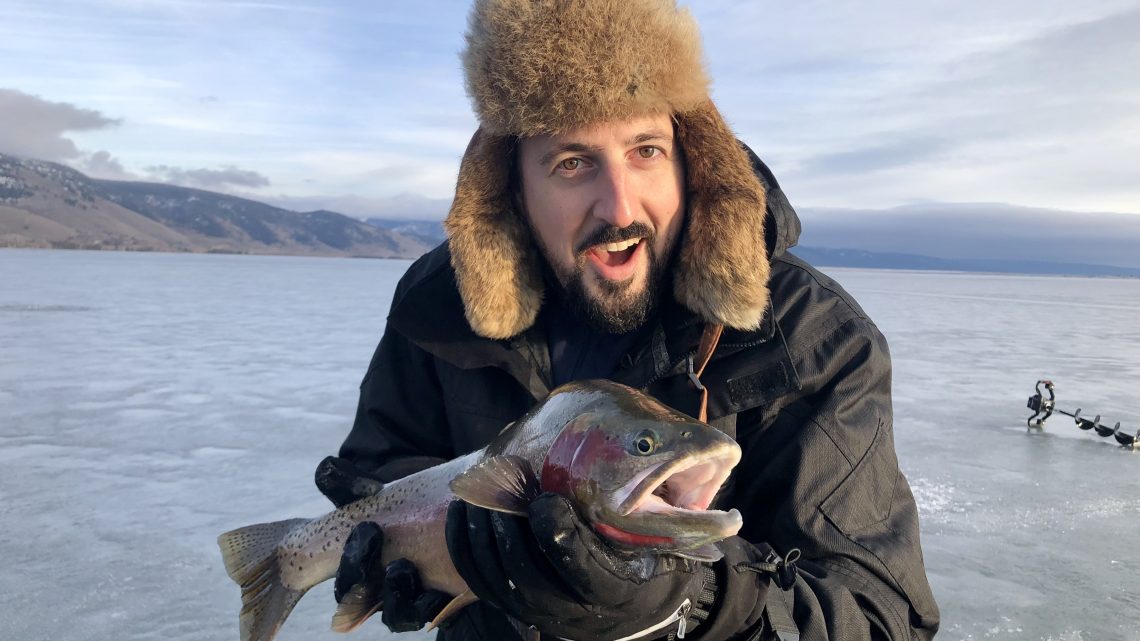 Winter weather has arrived, and with it, many anglers are turning their attention to ice fishing. Several lakes across Idaho are already frozen over and fishable, and with cold temperatures in the forecast, local favorites like Lake Cascade and Horsethief Reservoir won't be far behind. Whether you prefer ice or open water, here are some tips for planning your December fishing outings:
Henrys Lake (Ice Fishing)
I love Henrys Lake for two reasons: it is usually the first Idaho lake to freeze over, and it offers unbelievable fishing for trophy cutthroat and brook trout. Henrys usually freezes in November, but ice was behind schedule this year. My friends and I made our annual trip the first weekend in December, and even then, the ice was barely thick enough. We packed light and played it safe, and boy, did it pay off. Dozens of trout came through the ice for us, including multiple fish over five pounds! White was our most effective color, and while actively jigging definitely caught more fish, we did pick up some bonus catches on dead stick bait rigs. Henrys is a shallow lake, and most of our catches came in 6 to 12 feet of water. Get there early! Popular spots fill up quickly, and the early morning bite is traditionally best. From the Treasure Valley, Henrys is about five hours away—tough as a day trip, but perfect as a weekend getaway. If you're looking for a place to stay, check out nearby Sawtelle Mountain Resort.
Local Ice Report
Henrys is one of several eastern Idaho fisheries with safe ice. Closer to home, we are still waiting. I predict Horsethief and the remote Riddle Lakes south of Bruneau will be fishable by New Year's. Cascade will likely follow in early January, along with Warm Lake and Magic Reservoir. Payette Lake in McCall is usually the last to freeze—we often have to wait until February. As always, use caution and be safe. If you aren't sure how thick the ice is, drill test holes as you go. At least four inches of clear, solid ice is what we're looking for. Get all the details on how and where to enjoy ice fishing in our region by taking my next fishing class, Ice Fishing 101, in January.
Boise River (Trout)
I find myself fishing the Boise River more often in wintertime. With short days and cold temps, it's nice to be able to get out for a couple quick hours on a sunny afternoon. Based on my recent trips and reports from friends, catch rates are averaging 2 to 4 fish per hour—mostly rainbows, with occasional browns mixed in. Flows are angler-friendly, and the holes are usually obvious. Drifting a night crawler typically catches the most fish, but you can also get them on streamer and nymph patterns, spinners and Rapalas—minnow imitations might up your chances of catching a big one.
C.J. Strike Reservoir (Panfish, Trout)
Old reliable C.J. Strike continues to produce. Anglers are catching trout and a few Kokanee on trolling setups, while crappie, perch and occasional bonus catches are the norm for vertical jiggers. Most panfish anglers concentrate their efforts around the Narrows. Diehard bass fishermen are still picking up fish on finesse patterns, including drop shots and Ned Rigs. Unless we get a crazy cold snap, C.J. should remain accessible by boat throughout the winter.