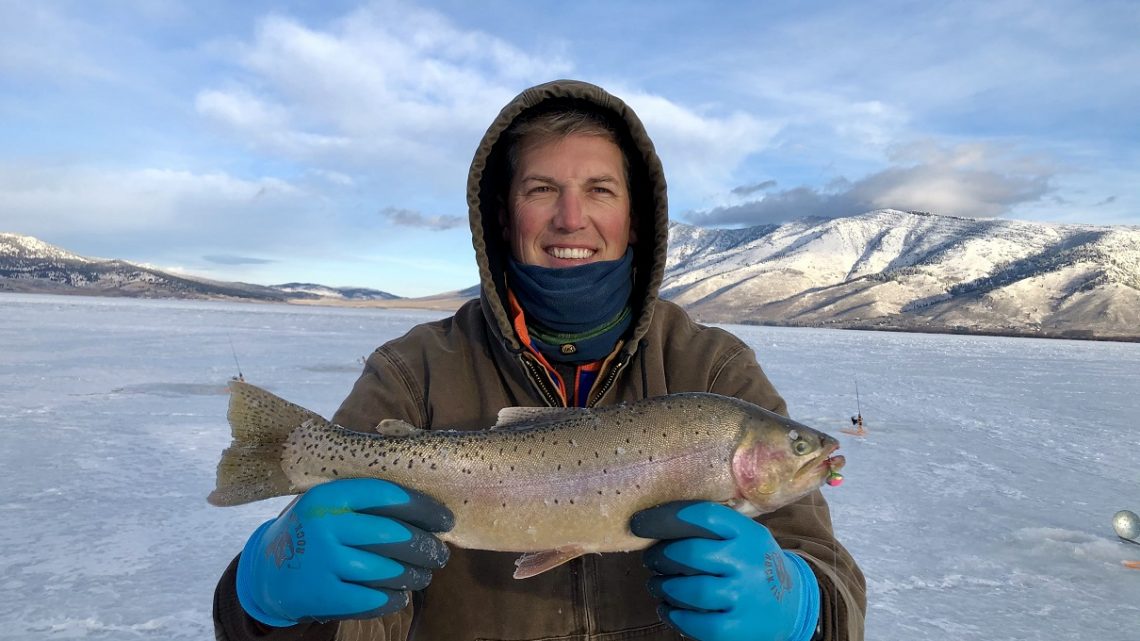 It has been a chilly holiday season thus far, but those bitter mornings and frosted windshields do come with a benefit—we have safe ice on several fisheries, a few weeks ahead of what we'd see in a typical year. Here are some pointers on where and how to enjoy the early ice.
As always, safety should be top-of-mind when ice fishing. The minimum thickness required for fishing is four inches, and while we have that on several lakes, anglers should proceed with caution early in the season. Be careful around the edges, drill test holes as you go and use the buddy system. Here are some reports as of this writing:
Henrys Lake is completely safe—it has been frozen for a month. It's a nearly six-hour trek from Boise, but the trophy cutthroat, brook and cutbow hybrid trout that live there make it worth the journey. On my annual Henrys ice trip, my group had success using small jigs tipped with worms and/or Power Bait. Note: New Year's Day marks the end of ice fishing season on Henrys.
Horsethief Reservoir has 6 to 8 inches of safe, solid ice. Stay away from docks and other obstructions in the water, which prevent safe ice from forming. Anglers at Horsethief can expect good catch rates on small to medium-sized rainbow trout and occasional Kokanee salmon. Big fish are hard to come by, but it's a good place to take kids and beginners. Small, brightly colored jigs tipped with a night crawler or mealworm have been productive for me in the past.
Lake Cascade is capped and building safe ice across much of the lake. The north and south ends of the lake often have the thickest ice first. Access points include Blue Heron, Van Wyck, Poison Creek and the new Boulder Creek access. The schools of big perch are mobile and can be difficult to find, but Cascade is a world-class fishery if you locate the elusive jumbos. Big rainbow trout and other bonus catches are always possible, too. For the latest reports and conditions, call Tackle Tom's at (208) 382-4367.
Magic Reservoir and Mormon Reservoir both have about eight inches of ice. Both lakes are home to trout and yellow perch. I would anticipate moderate catch rates on pan-sized rainbows at Mormon, with an occasional keeper-sized perch in the mix. Magic has bigger trout and a much larger perch population, but fishing is restricted to the southern half of the lake because of low water conditions. I recommend setting out a few "dead stick" bait rods and moving around with a jig tipped with worm or perch meat to try and locate fish with a flasher.
With cold temperatures, ice has formed earlier than usual. That also means fisheries that don't usually freeze might come into play this season. I recommend staying off city and neighborhood ponds, which often have soft spots created by inflows and aeration pumps. As of this writing, C.J. Strike has ice beginning to form around Jacks Creek—it remains to be seen if it will build enough ice to fish (but if it does, it should be awesome). Wild adventures onto the ice can pay off big time if you stay safe. Just remember: four inches of clear, solid ice is the minimum for safe fishing.
If you want to learn more about hardwater fishing, check out my Ice Fishing 101 class in January!