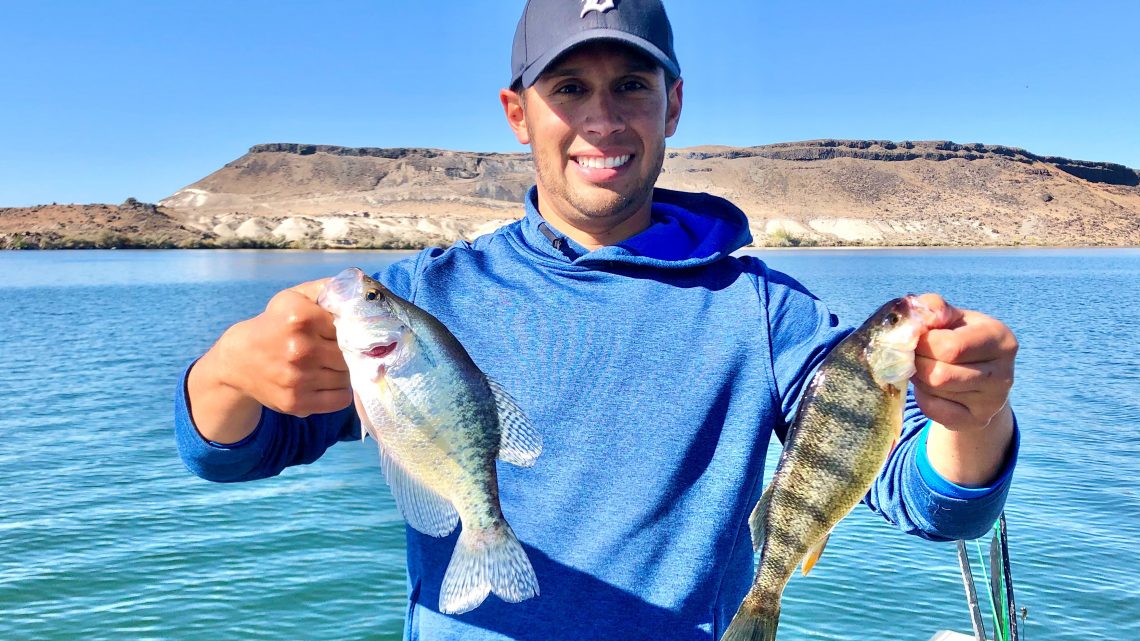 Fall in Idaho is a great season for multispecies action. Rivers are typically running low, which means fish will congregate in the most favorable remaining habitat. Reservoirs also have hot spots, usually related to underwater structure like a rockpile, ledge or drop-off that attracts both panfish and their predators—especially bass, which move into deeper water as temperatures drop.
Idaho is home to many multispecies fisheries. In our region, the most popular is C.J. Strike Reservoir. I recently fished there with some buddies and we enjoyed fast action on a gorgeous fall morning, catching more than 100 crappie, a dozen smallmouth bass, a handful of yellow perch and one lonesome bluegill. Rainbow trout are another common find at C.J. Strike, and anglers can also catch sturgeon in a handful of deep holes, or in the Snake River just below Strike Dam.
Other popular fisheries for multispecies trips include Lake Cascade (perch, rainbow trout, bass and a number of others); Salmon Falls Creek Reservoir (walleye, bass, rainbow trout, perch); Brownlee Reservoir (crappie, bass, channel catfish, flathead catfish); and Magic Reservoir (rainbow trout, brown trout, perch, bass). Whether you're looking to catch a few fish for the frying pan or just want to relax and see what's biting, it's hard to go wrong with multispecies action.
TROUT
No matter how you like to fish for trout, chances are you can get out and do it right now. River flows are angler-friendly, making it easy to stalk the shorelines with a fly rod (nymphs, streamers and egg-sucking leeches are good bets), spinners, Rapalas or some bait. Look for fish holding in deep pools, current seams and cut banks. If trolling is your game, conditions are good with vegetation dying off and trout patrolling shallow water in search of an easy meal. Pop gear tipped with corn and worms, wedding rings, spinners and Rapalas will usually attract bites at Arrowrock, C.J. Strike, Horsethief and Lake Cascade. Those same fisheries, along with countless local ponds, are also good bets for fishing from the bank with lures or bait (a worm/marshmallow is a tried-and-true combo). You'll find mostly rainbows in local waters, and they should be plentiful thanks to recent stocking efforts by Fish & Game and Idaho Power. Should you catch a brown trout, keep in mind they are spawning and should be released.
STEELHEAD
I'm hearing good things from the steelhead crowd, and reported catch rates are as good as I've seen this season. Fish are being caught on multiple stretches of the Snake, Salmon and Clearwater Rivers, with some huge B-run fish mixing in along with smaller A-run steelhead and occasional Chinook salmon. The latest harvest reports as of this writing show catch rates as low as 3 hours per fish on the Salmon downstream of Whitebird; 6 to 10 hours on the Snake River; and about 10 hours on the Clearwater from its mouth to Memorial Bridge, as well as the North Fork Clearwater. Fish are being caught on the typical assortment of roe, jigs and bobbers, streamers, wobbling plugs and Rapala-style jerk baits. Get all the latest details on the Fish & Game website. Bundle up and go get them.
ROCK SOME COLD WEATHER FISHING GLOVES
With winter and ice fishing season upon us, I want to give a shoutout to my friends at Sun State Industrial Supply, who just got in a new shipment of their Rock Fish gloves. Waterproof, insulated and dexterous, Rock Fish gloves are the best solution I've found for keeping my hands warm and nimble while fishing in the cold. And they're on sale for $10! To order a pair, visit sun-state-industrial-supply.myshopify.com.
Tight lines!