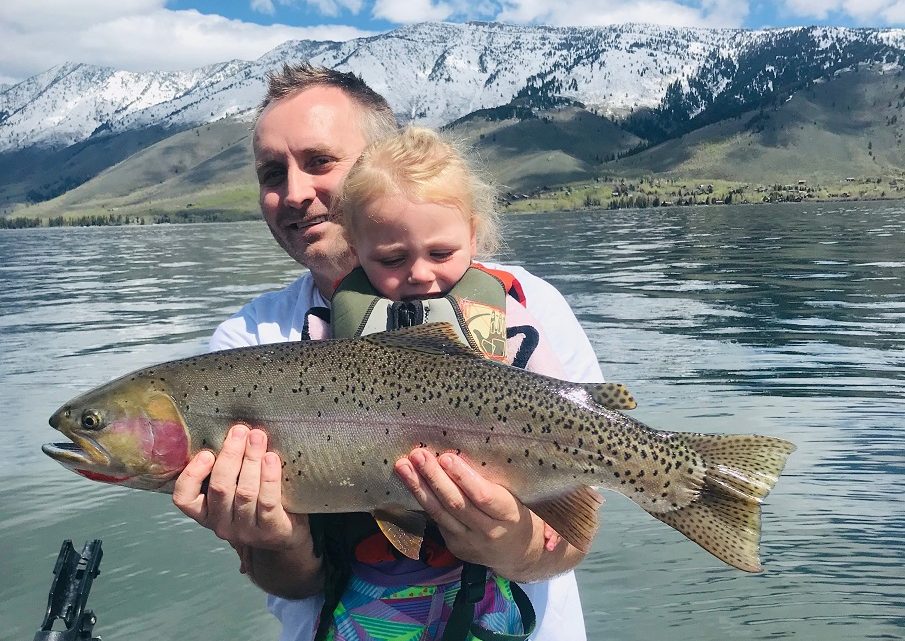 Late spring is a great time to be an angler in Idaho. No matter what species you like to catch, options are plentiful for chasing trophy trout, post-spawn bass, hungry panfish and more—and you can't beat the weather! Here are a few ideas to get you started:
TROUT
Whether you prefer fly-fishing in rivers or pursuing lake-dwelling monsters from a boat, it's prime time for targeting big rainbows, cutthroats and hybrids, which will retreat to deeper water once things get too warm. Fly-fishing with dry patterns, nymphs and streamers is a good option. Leech and woolly bugger patterns are particularly effective for catching lake and reservoir trout from a boat or float tube. With spinning tackle, I like to start with a spinner or Rapala on one rod and, if conditions allow, fish a bait line with a worm or some Power Bait (make sure you have a two-pole permit). Trolling is another great way to catch trout—it allows you to cover a lot of water while dragging pop gear, spinners or Rapalas. Sharpen those hooks and tie good knots!
CRAPPIE
These large panfish are one of Idaho's most popular species, and with good reason. In addition to being excellent table fare, crappie live in huge schools and are often quite easy to catch once you locate them. This spring has been one of the better crappie seasons in recent memory—the fish go in cycles, and the size and numbers are both favorable this year. Crappie are found in the Snake River and associated reservoirs, including Brownlee and C.J. Strike. A good keeper-sized fish is 10 to 12 inches, but they are capable of growing up to 16 inches. A boat with a fish finder is a huge help in locating of crappie, although some schools are close enough to shore for bank anglers to get in on the action (look for areas with steep drop-offs). Small panfish jigs tipped with a crappie nibble or dead minnow are the go-to for most anglers. Crappie will also hit Rapalas, small crankbaits and small Ned Rig-style soft plastics.
BASS
It's an interesting time for bass fishing in local waters. In warmer fisheries at lower elevations, many fish have finished spawning and are now entering full-on summer feast mode. In cooler waters at higher elevations, fish may just now be moving in shallow to begin their spawning routine. Bluegill are also preparing to spawn, so spinnerbaits and other minnow-imitating lures are a good way to trigger a predatory strike from a bass. Finesse jigs, swim baits and soft plastics pitched in and around weeds and other heavy cover are also a good way to go. And when conditions are right on warm, calm evenings and mornings, nothing beats the excitement of an explosive topwater strike on a frog, plug or fly.
Tight Lines!