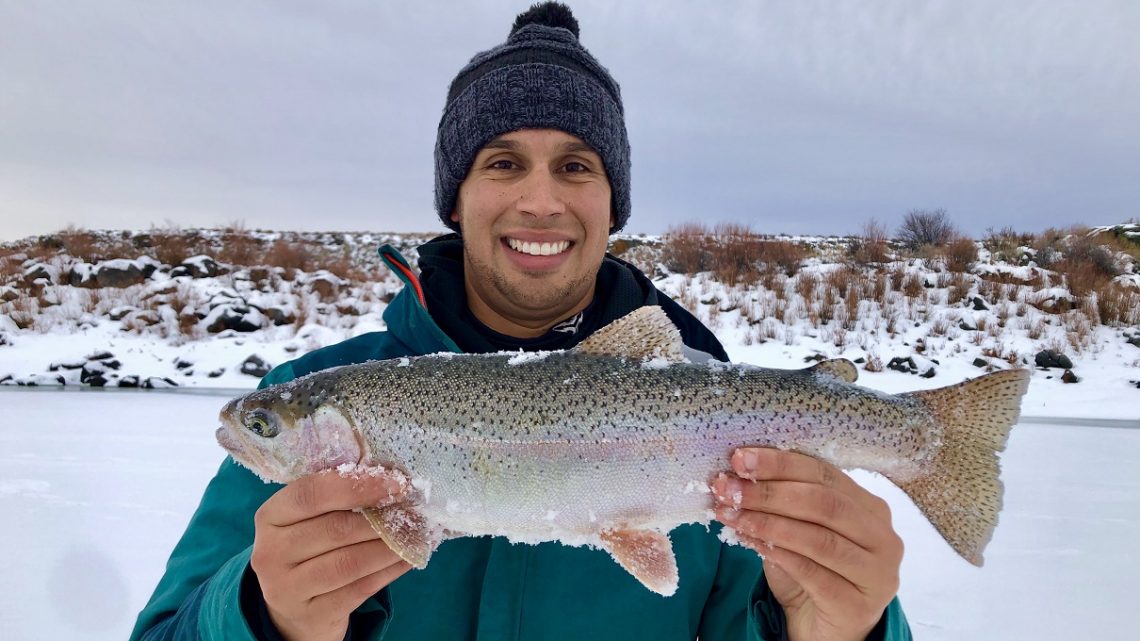 January is synonymous with ice fishing in Idaho, and the New Year has brought opportunities for local anglers to get out and enjoy the hardwater. I can officially recommend parts of Lake Cascade and Magic Reservoir, with more fisheries likely to join the list soon.
Magic Reservoir (Ice Fishing)
Located a couple hours east of Boise, Magic is loaded with perch, although they tend to be much smaller than the Lake Cascade jumbos. But if you locate a school, catch rates can be fast, and there are bound to be a few keepers in the mix. Magic also has solid populations of rainbow and brown trout, offering anglers a chance to tangle with something bigger. Small jigs and spoons tipped with worms, corn, marshmallows or cut bait are the ticket. As of this writing, there is still open water on the main reservoir, but there are several fishable arms coves with at least six inches of ice.
Lake Cascade (Ice Fishing)
The north end of Cascade has seven solid inches of ice as of this writing, with anglers accessing the lake via Poison Creek and Boulder Creek. Ice is building from the south as well, with several anglers reporting fishable ice at Blue Heron. Jumbo yellow perch are the target for most anglers, and a few are showing up along with smaller perch and rainbow trout. I like to look for perch in 15 to 30 feet of water, fishing near the bottom with small, perch-colored jigs. Trout usually cruise shallower and will take small jigs and spoons in silver, white, pink or perch patterns. Stay mobile until you find the bite, as Cascade fish can be picky. I recommend tipping your lures with worms, perch meat, mealworms and other baits.
Brownlee Reservoir (Bass, Crappie, Catfish)
Brownlee is usually a friendly spot to fish from a boat in the winter months. Even if water levels drop below the ramps, there are numerous spots where you can launch from shore, and snow and ice typically aren't a problem. Crappie fishing has been slow, but I have had some great days catching cold-weather crappie at Brownlee in the past. If you can locate a school, you might be in business. Bass have slowed down, but catching them in cold water is a fun challenge. Using drop-shot soft plastics in deeper water or dragging slow, deep-diving crankbaits might entice a nice bass. The same goes for catfish, which have a hard time resisting a nice chunk of cut bait no matter how chilly it gets.
Boise River (Trout, Whitefish)
Steady as the tides and convenient as they come, the Boise River is a reliable fishing spot this time of year. There won't be any steelhead in the Boise this fall, but rainbow trout, brown trout and whitefish can be found in abundance if you know where to look. Spinners, spoons, worms, Power Bait, streamers and hare's ear nymphs are good tackle choices for fishing the Boise River. Remember to practice catch-and-release on big, wild trout to help preserve our unique urban fishery.
Speaking of steelhead, Idaho Fish & Game has reopened spring steelhead fishing on the Clearwater River and lower Snake River, effective Jan. 1. Angler harvest is limited to one hatchery steelhead under 28 inches per day. Plugs, streamers, jig-and-bobber rigs and roe are popular offerings. Tight lines!