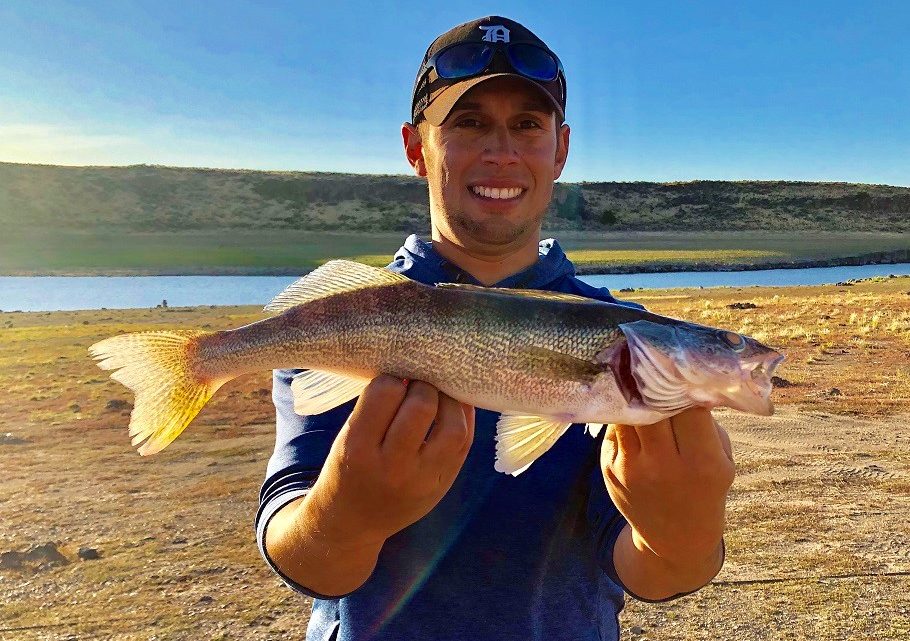 October is a transition month for fishing conditions across our region. As cooler weather sets in and stream flows taper off in most local rivers, many anglers will turn their attention to trout until ice fishing season arrives. You still have options, though—here are a few ideas to get you started:
Salmon Falls Creek Reservoir (Walleye, Bass)
Walleye are on the chew at Salmon Falls Creek Reservoir south of Twin Falls! These fish are a cool, rare find in Idaho, and I recently checked them out with local walleye expert Andy Fiolka. Fishing with soft plastic swimbaits against windblown shorelines is a good strategy, and fish can also be coaxed out of deeper water by trolling crankbaits, bouncing crawler harnesses or vertical jigging. Expect to catch plenty of smallmouth bass while you're at it. Trout and perch might also crash the party. Keep an eye on my columns in the Idaho Statesman and the Twin Falls Times-News for a deeper dive on walleye fishing at Salmon Falls later this month.
Owyhee River (Trout)
October is a fabulous month for catching brown trout—the trophy species the Owyhee River in eastern Oregon is known for. Browns are fall spawners, and October is usually when big fish start congregating. They'll be actively feeding and will strike dry flies, nymphs, streamers, leeches, spinners, spoons and crankbaits. If you really want to get adventurous, large mouse-patterned lures and flies often attract big, aggressive browns. When the fish start pairing off to spawn, it's best to leave them alone (and watch your step to avoid trampling nests). Brown trout are catch-and-release on the Owyhee. You can also catch fat rainbow trout, which often follow spawning fish upriver. Bring your Oregon license.
Brownlee Reservoir (Mixed Bag)
The harmful algae has dissipated at Brownlee, a Snake River reservoir on the Idaho-Oregon border. I have been hearing good things from bass tournament anglers—crankbaits, jigs, swimbaits and spinnerbaits are good choices this time of year, as bass are on the prowl for wayward minnows. It's not too late to get into some channel and/or flathead catfish, either. Worms, cut bait, Mormon crickets or deep-diving crankbaits should attract some bites. Crappie are another popular target at Brownlee. This year's class of fish includes some really big fish in the 14-inch range, and lots of smaller fish that aren't quite worth keeping. The big ones are usually enough to keep it interesting. Fishing vertically with panfish jigs or trolling with medium-diving crankbaits are the best crappie strategies.
Payette River (Trout, Bass)
There are two ways to fish the Payette, and fall is a great time for both. For whitewater trout stream fishing, try the stretch between Horseshoe Bend and Cascade. It's steep terrain, but there are some nice holes to hunt rainbow trout using spinners, flies or bait. Float traffic has slowed down and lower fall flows make for easier fishing. If bass and catfish are what you seek, fish between Black Canyon Dam and the confluence of the Payette and Snake River west of New Plymouth. Smallmouth are actively feeding as they prepare for winter, and they will eagerly attack minnow-imitating lures. Channel catfish are also a possibility—fish with bait in deep current seams to tempt a cat.
Tight lines!