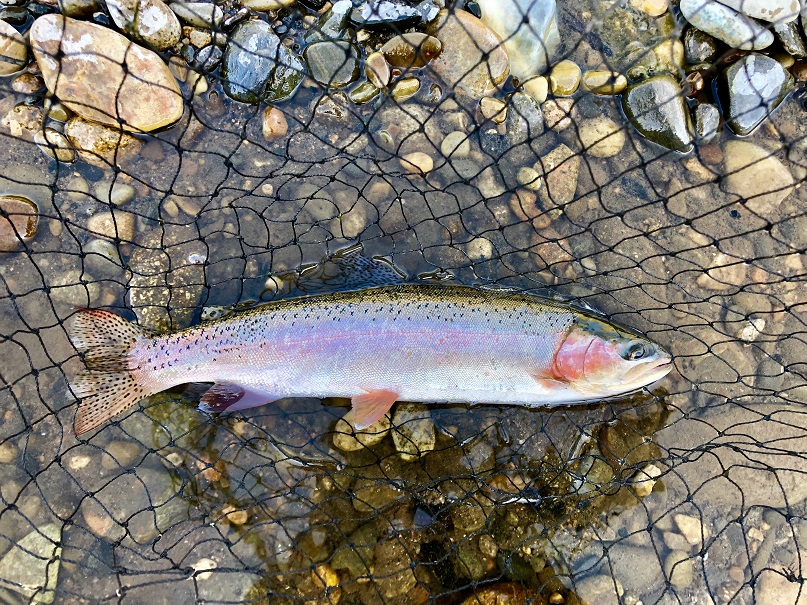 Fishing conditions remain ideal across much of southern Idaho, with a wide variety of species and waterways available. As we hit the sweet spot between summer and fall, here are a few destinations to keep in mind:
Big Wood River (Trout)
An often-overlooked fishery about two hours northeast of Boise, the Big Wood River offers some of the finest trout fishing in the region this time of year. With angler-friendly flows, a pair of waders or swim trunks (disclaimer—there are leeches) is all you need to fish virtually any hole on the river. The holes tend to be obvious and productive, too, as much of the river is too shallow and fast-moving to hold many fish. Wild rainbow and brown trout are the target species, and there are some dandies. I recently made a quick stop off and caught two 14-inch browns and two 17-inch rainbows flinging Rapalas and spinners on my ultralight rod. Flies would certainly catch fish, too. Hopper patterns should be money this time of year, along with streamers, leeches and bead-head nymphs. Watch your step wading, as the brown trout will begin building their redds and spawning by the end of September.
Alpine Lakes (Trout)
Last call for fishing in the high country! Chilly nights will make camping uncomfortable before long, so don't delay. Idaho has dozens of mountain lakes to explore—check out the Sawtooths, the wilderness above McCall and the Rainbow Lakes Trail, just to name a few. Wherever you journey takes you, the strategy for catching cutthroat, rainbow and brook trout is usually pretty standard. Throwing small dry flies, hoppers and bead head nymphs almost always gets some attention, and you can't go wrong flinging small spinners, spoons and Rapalas, either. For my money, it's worth it to pack in a float tube, which gives you free roam of the lake instead of competing for limited shore access. Don't ignore small inlet and outlet streams!
Lake Lowell (Bass, Catfish)
The water level is dropping at Lake Lowell, but late-season fishing can be very productive. As the water recedes, the weed line and other vegetative cover are left high and dry. Bass—which become aggressive as they sense the end of the feeding season approaching—will hold to underwater rock piles, dams and other submerged cover. Target them with crankbaits, swimbaits and soft plastics. I've also caught late-season catfish at Lowell using worms, garlic marshmallows and other scented baits. Like many lakes in our region, Lowell sometimes experiences algae blooms. Algae won't affect the fishing much, but it's a good idea to stay out of the water and leave your pets at home. Boating season closes Sept. 30.
Sagehen Reservoir (Trout)
For an alpine feel without the hike, try Sagehen Reservoir north of Boise. This small lake is generously stocked with rainbow trout and offers boat access, decent shore fishing and dozens of campsites right on the water. It can get crowded in the summer months, but getting out in a boat or float tube relieves the congestion. Trolling seems to be the most productive strategy, with anglers towing flashers trailed by wedding rings, hoochies or spinners tipped with worms or corn. Stripping leeches from a float tube or fishing bait on a slip sinker from shore should also attract some attention.