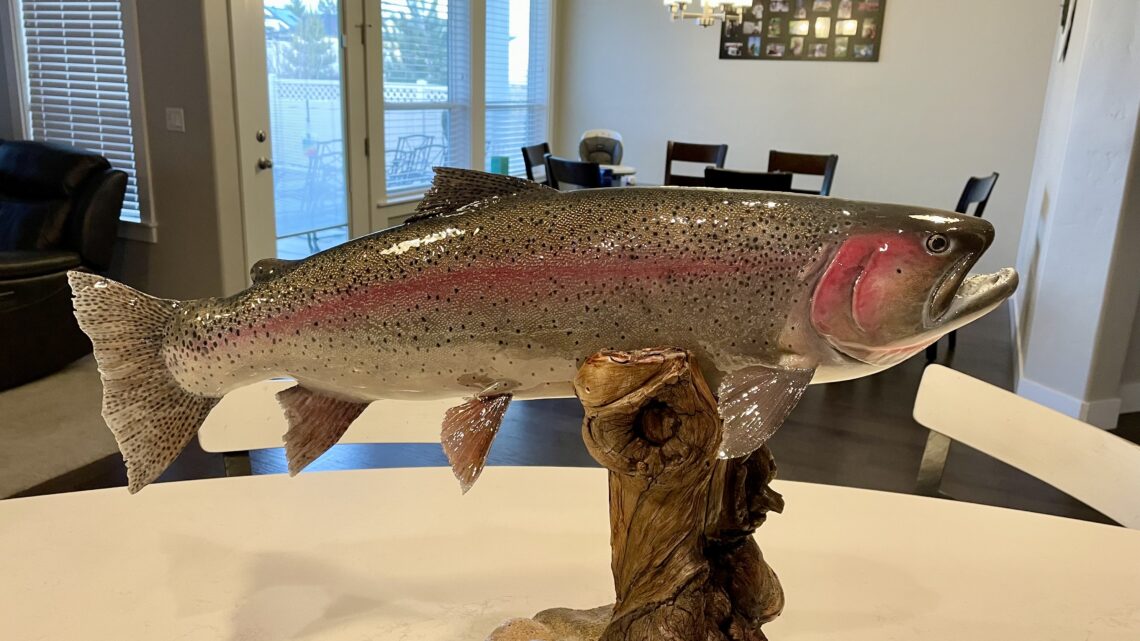 Every angler dreams of landing a once-in-a-lifetime kind of fish—and I was fortunate to experience one such catch this winter.
While ice fishing at legendary Henrys Lake, I caught "Walter", a 30-inch cutthroat-rainbow hybrid trout. It was the highlight of my ice fishing career, and one of my favorite catches ever. To celebrate the occasion, I decided to keep Walter as a trophy.
What makes a fish trophy-worthy? Each angler's criteria will differ. But these days, trophy options exist for every shape and size of fish—even ones you choose to release! If catching a trophy is on your bucket list, here are a few things to know:
Choosing the Right Fish
Taxidermy is expensive, but when it's done right, it lasts a lifetime. So, choose your trophy fish wisely!
Size is a primary consideration. In my opinion, the best trophies are "special big" specimens you might never encounter again. I've caught lots of big trout through the ice, especially at Henrys, where my previous personal-best was 24 inches. Walter surpassed that by 25%, and 30-inch trout (other than Mackinaw and steelhead) are rare finds anywhere in North America. Walter was definitely a trophy.
My next decision was whether to harvest Walter for a skin mount, or release him and order a replica. I already have a replica mount of a 24-inch Idaho largemouth bass—a fish I released because it was a crucial member of the spawning population (and probably close to 20 years old!).
Cutbows, like most hybrid species, do not reproduce. And at nearly 10 pounds, Walter was likely approaching the end of his life (most trout don't live more than 7-8 years). I would have had a hard time harvesting a wild trout, but as a hatchery-produced hybrid, Walter made an ideal keeper.
A trophy fish also needs a great story. And pulling a giant trout through an 8-inch hole in the ice—on a 28-inch rod, no less—definitely qualifies!
I had a narrow window of criteria for my skin-mount trophy. And Walter checked every box.
Picking the Right Artist
Once I decided to bring Walter home, the next step was choosing a taxidermist. Lucky for me, I had an existing friendship with Dave Danner of Tall Tale Taxidermy in Meridian. Dave is a talented artist with more than 40 years of experience. When Dave did my bass replica, he gave me a tour of his workshop and display room filled with awesome trophies. I knew if I ever had a skin mount made, Dave would be my guy.
Replica mounts are great—I love that they provide the option for catch-and-release—but skin mounts offer superior beauty and realism. The head (including the teeth!), fins and skin of the fish are preserved and stretched over a mold. Once Dave adds his touch-up painting magic, the final product is a stunning tribute to an incredible fish.
Not all taxidermy is created equal, so do your homework and make sure you choose an artist you trust with your prized catch. Remember—a well-made trophy will last forever!
Field Care Matters
If you decide to keep a trophy, taking care of it in the field will improve the quality of your mount. Keeping the skin and fins moist is key. When I caught Walter, I called Dave from the lake and followed his instructions for proper preservation. Because I was able to pack the fish completely in snow inside a plastic bag, Walt arrived at Dave's workshop in pristine condition.
Fish caught during warmer weather or in remote locations might be trickier to handle. Do some research ahead of time and have a plan in mind, just in case the fish of a lifetime shows up.
I'm really happy with how Walter turned out. It was a difficult decision to harvest a fish for a trophy, but it was such a special catch—and Dave did such a beautiful job—that I'm glad to have a memento worthy of the occasion. Tight lines!