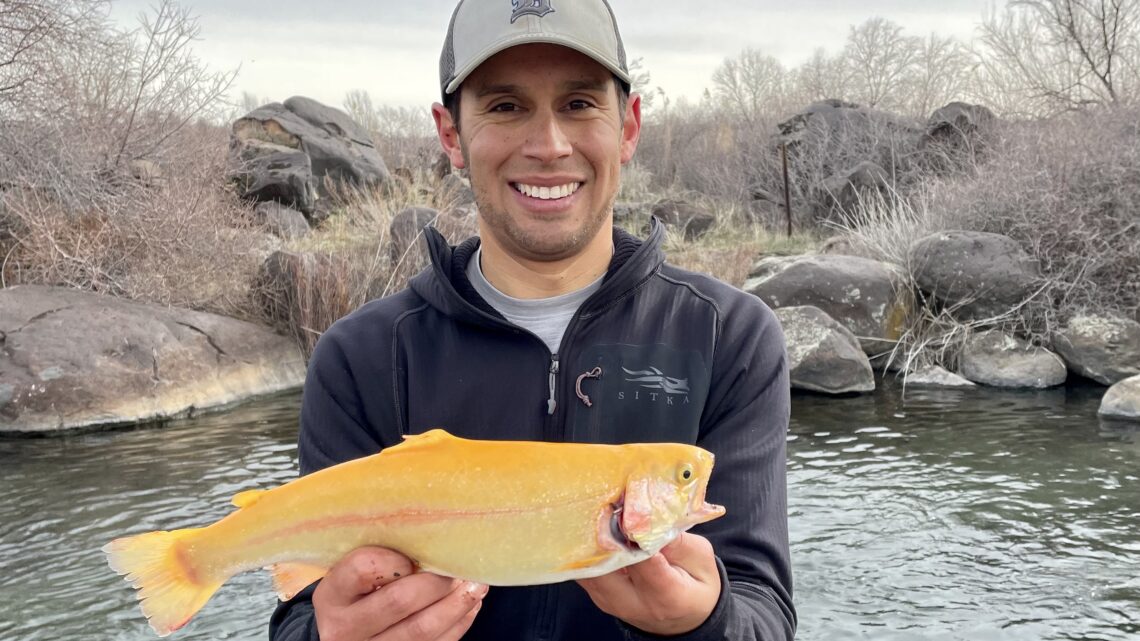 March might be the toughest month of the year for local anglers. As we transition from ice fishing to open water season, many fisheries are in flux. The weather is also volatile—we've been seeing a steady dose of wind, rain and chilly temperatures. But where there's a will, there's a way, and there are still some sneaky-good fishing opportunities out there. Here are a few ideas to get you started:
Hagerman Valley (Trout, Sturgeon)
Hagerman is one of my favorite places to fish in the springtime. With beautiful natural scenery and plentiful fishing options, it's a great place for a day trip (or a weekend stay, with restaurants and local attractions including hot springs, campgrounds and a fossil museum). For trout, try the State Hatchery area, which features a maze of ponds and creeks generously stocked with traditional and Palomino (yellow) rainbows. If you know where to look, the Snake River also has some giant rainbows, but shore access is limited and a jet boat is needed to safely navigate the river. Sturgeon are plentiful in this stretch of the Snake, and while a boat helps, there are some established sturgeon holes close enough to fish from shore. Hagerman also has opportunities for bass, bluegill and even tilapia. On a recent day trip, my buddy and I landed nine different species of fish!
C.J. Strike Reservoir (Mixed Bag)
The panfish bite was uncommonly slow at C.J. Strike this winter, but crappie fishing is starting to pick up if you can find the right school of fish. The average size is down a bit, but there are plenty of keeper-sized fish for the frying pan. Perch and bluegill occasionally mix in with the crappie. Bass fishing is also picking up—a recent outing produced more than a dozen smallmouth and a bonus largemouth on crankbaits. Bass fishing should improve as the water temperatures continue to warm. Trout are always an option at C.J., too. We caught several while bass fishing, but trolling between the dam and the Narrows is usually the best way to target trout. Last but not least, sturgeon fishing has been steady in the Snake River arm of the reservoir. Look for fish in 20 to 40 feet of water and target them with fresh cut bait. Trout, pikeminnow, crappie and herring are solid options.
Ice Fishing Options
As of this writing, we still have plenty of ice at Lake Cascade to our north and Mountain View Reservoir on the Duck Valley Reservation to the south. Cascade is still giving up big perch, and Mountain View is always a good bet for some keeper rainbow trout. Warm temperatures will melt the ice in a hurry, but until then, there's time for one last fix on the hardwater! After ice-off, fishing should be very good at both locations, although there is often a week or two of lag until the ice clears up enough to run a boat.
River Fishing Options
The Boise River has fished well for big brown trout and wild rainbows this spring, and it still has a week or two before the water comes up in early April. Once the flows increase, fishing will be difficult for the foreseeable future. The Snake River is running relatively low, and fishing has been good for smallmouth bass along with an occasional catfish. Drift a soft plastic, or live night crawler, or bump crankbaits along rocky shorelines. The Owyhee River in eastern Oregon has been fishing well for brown trout. Try spinners, crankbaits, streamers and small nymph patterns. Tight lines!