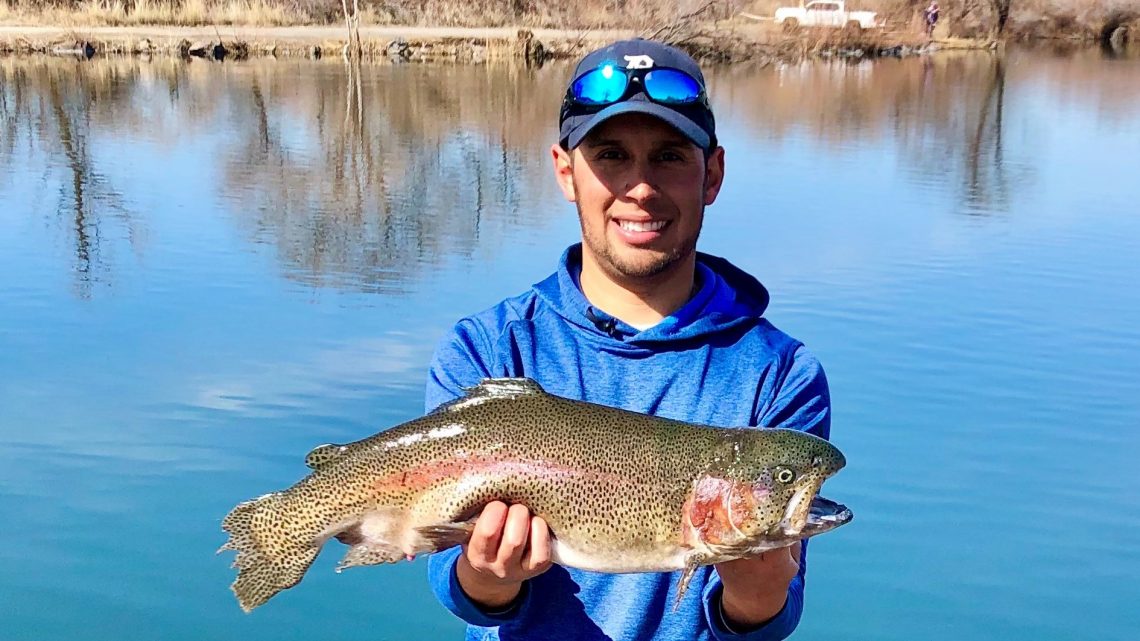 It feels like spring in the Treasure Valley, which means its time to start hitting local ponds and lakes. River fishing will be good, too, until runoff flows arrive, and there are even a few spots left to squeeze in some late-season ice fishing north of the Treasure Valley. Here are a few ideas to get you started:
Ponds (Mixed Bag)
Spring is one of the best times to fish ponds. Bluegill, crappie and even a few bass are starting to stir, while thousands of trout are being stocked by Idaho Fish & Game. One of my favorite places to fish for trout is Hagerman, where there are dozens of small ponds and lakes as well as Riley Creek, Billingsley Creek and the Snake River. In addition to standard, pan-sized rainbows, Hagerman is a good place to catch huge adult fish like the one pictured. Spinners, spoons, flies, worms, Power Bait and shrimp are good options for trout in ponds. Panfish jigs are best for crappie and bluegill, while bass might take a slowly retrieved crankbait or jig.
Rivers (Trout)
The Boise River has been fishing well for rainbow and brown trout, which should continue until spring runoff arrives. That might happen soon, so hit it now! Rapalas, spinners, streamer patterns and bait are good bets. I've already seen folks catching some nice catfish on the Snake River, too, while spring steelhead fishing continues on the Salmon and Clearwater rivers.
C.J. Strike (Panfish, Trout)
Old reliable C.J. Strike continues to produce for crappie anglers. Schools are gathering in 40 to 50 feet of water, and they're usually suspended 20 to 40 feet deep. Once you locate fish, drop crappie jigs down—light gear helps, as the bite can be subtle. Trolling or fishing with bait near the dam can produce some nice rainbow trout, and anglers often bump into a few surprises at Strike. On one recent trip, we stumbled into a crazy bluegill bite while catching crappie.
Ice Fishing
Hardwater season is winding down, but you can still find plenty of ice to our north at Lake Cascade, Payette Lake, Warm Lake and Horsethief Reservoir. Ice fishing on sunny March days can be awesome—just be prepared to deal with some slush. My most recent ice fishing trip was March 1 at Payette. We were targeting elusive Mackinaw trout, and we caught a few on white tube jigs and cut bait. Check social media groups or call Tackle Tom's in Cascade for the latest reports. The ice should last a couple more weeks, but it really depends on how quickly things warm up.
Tight lines!