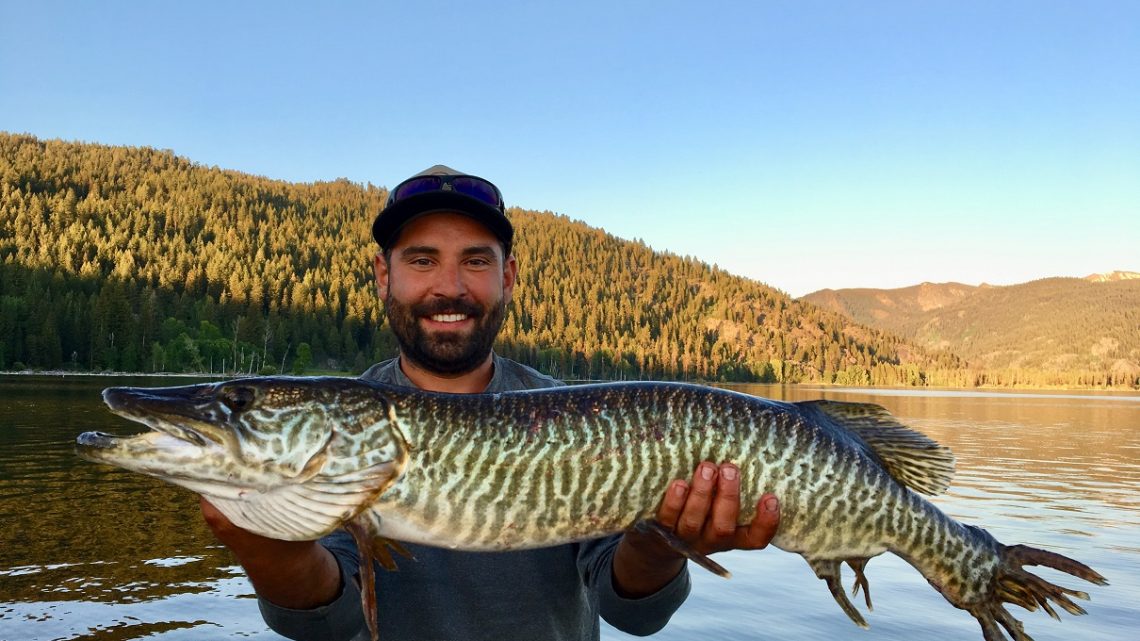 From toothy tiger muskie at Little Payette Lake to angler-friendly flows in local rivers, there is no shortage of places to fish this month. Here are some cool fishing holes to escape to as Idaho's summer heat sets in:
Little Payette Lake (Tiger Muskie)
As detailed my recent column, tiger muskie season is on at Little Payette near McCall. These huge, toothy predators are one of the toughest fish you can tangle with in our region—at a healthy 36 inches, the specimen we brought aboard my boat wasn't even big enough to keep! Muskies are wily ambush hunters who use Little Payette's abundant wood and grass cover to hide from their prey. Large spinners and topwater lures are the best baits, but getting one or two bites is considered a good day. Luckily, smallmouth bass enjoy similar habitats, and there are some big ones at Little Payette. Rapalas, topwater plugs and plastics are good choices for bass. It's best to stay muskie-ready by fishing with a steel leader.
Crane Falls Lake (Mixed Bag)
I recently stopped by this old favorite and put more than 30 bass in the boat. Spinnerbaits and plastic worms were the ticket, as the bass have spawned and are looking to feed. Remember, Crane Falls has trophy rules on bass. If you're looking for something to keep, the lake also has stocked rainbow trout, perch, crappie and bluegill. Trout hang out in the deeper, clearer water and can be targeted with flies, spinners, spoons or trolling gear. Perch and crappie are often found in the transition areas between deep water and the weedy shallows. Target them with small crankbaits or panfish jigs tipped with worms.
Snake River (Bass, Catfish)
The Snake River has really turned on, with hot fishing for smallmouth bass and channel catfish alike. With flows as low as they've been all season, anglers can scramble along the shoreline to find points and rockpiles to fish from. Fishing deep pools and eddies with soft plastic grubs, spinnerbaits and crankbaits is the best way to target bass. Use cut bait or chicken livers on heavier tackle to target catfish. You can also fish a live worm—you're likely to catch lots of smaller bass, with a shot at a big smallmouth or channel cat. Sturgeon holes are easier to identify when the river drops, too, and anglers have been wrestling some nice dinos on the usual assortment of cut bait, squid and pickled herring.
Boise River (Trout)
It's nice to see fish being caught on the Boise River again. Anglers are wrangling lots of rainbow trout and the occasional brown trout or whitefish, mostly by flinging spinners, bait or flies. Panther Martin spinners in green/orange or black/gold are two favorites of mine. Rainbow-colored Rooster Tails and silver Blue Fox are also popular offerings. For the fly crowd, the go-to presentations are subsurface nymphs like the hare's ear, pheasant tail or copper John. Big streamers like a sculpin or muddler minnow might entice a bigger brown or rainbow, especially late in the evening. It's a busy time on the river, with lots of floaters and other recreationists around. Fish early to avoid the crowds!