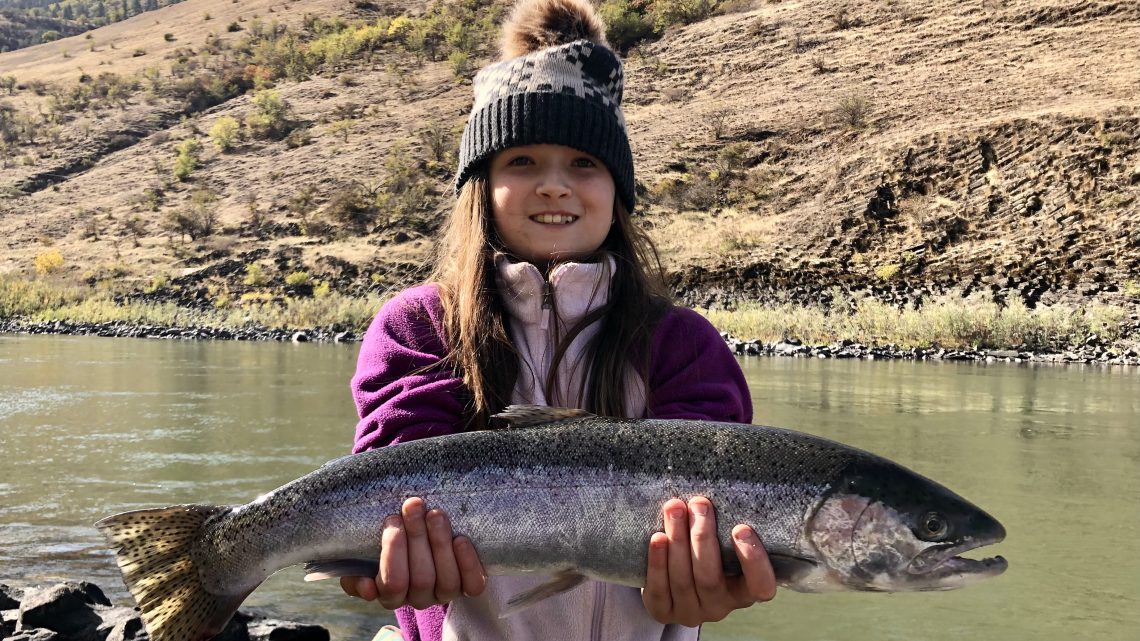 Fall brings many fishing opportunities for Idaho anglers, including the prime season for chasing anadromous salmon and steelhead. If you're up for a challenge and adventure, stomping around the backcountry chasing giant fish on the Salmon or Clearwater River is a one-of-a-kind Idaho experience! There are also plenty of local options, from catching trout in the rivers to pursuing panfish in reservoirs. As you plan your next outing, here are some ideas to get you started:
Steelhead Season is Here!
October is a prime month for catching one of Idaho's most iconic fish—the steelhead. Like anadromous salmon, these rainbow trout are born in rivers or hatcheries and migrate to the ocean before returning to their home rivers and streams to spawn. Steelhead that spend one year in the ocean, known as A-run fish, are usually between 24 and 30 inches in length, while B-run fish, which live in the ocean for multiple years, can grow to more than three feet long! Most steelhead fishing in Idaho is done on the Snake, Salmon and Clearwater rivers. It is often hard work, with anglers spending a full day on the river for the chance to hook a fish or two, usually using jigs, crankbaits, spinners or bait including shrimp and roe. The fall steelhead season is open through December 31, with a daily limit of one fish per angler. Keepers must be hatchery fish, marked by the absence of an adipose fin. Wild fish with intact adipose fins must be released. Steelhead fishing also requires barbless hooks and a special permit. For a full list of seasons, recent fish counts, fishing tips and harvest rules (which can change), visit the Idaho Fish & Game website at www.idfg.idaho.gov.
Panfish School in Session
Fall is a great time to catch a stringer full of delicious crappie or perch for the frying pan. As the water cools, the fish tend to school up in relatively deep water—30 to 50 feet is usually a good place to start looking. Locally, C.J. Strike Reservoir near Bruneau is probably the best bet for catching panfish. It is loaded with crappie, perch and an underrated population of bluegill, all of which reach quality keeper size. I have also had some great days catching big crappie at Brownlee Reservoir in November, and Lake Cascade is famous for its jumbo perch, which are usually quite active in the fall as long as the weather holds (the lake often starts to freeze at some point in late November or early December). No matter where you fish, I recommend using small panfish jigs tipped with a piece of worm or crappie nibble Power Bait. Small swimbaits and spinnerbaits can also be good, especially on crappie.
Streaming for Trout
As long as you don't mind the cold, trout fishing in local rivers and streams is usually excellent through the fall months. Flows in rivers including the Boise, Payette and Owyhee are low, making it easier to navigate and identify deep pools likely to hold fish. I have had several successful trips on the Boise River this fall, catching rainbows up to 20 inches long using spinners and worms. Rapalas and flies will also do the trick—nymphs like a hare's ear or pheasant tail are effective year-round, and streamer patterns might attract big, aggressive brown trout. Speaking of browns, I recommend practicing catch-and-release through the fall (it is required on the Owyhee), as the fish spawn between October and January.